OPI Couture de Minnie Nail Polish Collection. Minnie Mouse is back with another nail collection, and this time it's couture! Available in stores now, the collection features five hues, ranging from pinks, to bold reds. Two shades feature fun and trendy effects a glitter and a liquid sand texture effect which can easily be applied to the nails. Look below for more info and product photos.

"Last summer, OPI created a 'Vintage Minnie Mouse' line. Women around the world fell in love with the fun and playful shades evocative of Minnie's traditional look," explains Suzi Weiss-Fischmann, OPI Executive VP & Artistic Director. "This year, OPI is exploring a different side of Minnie Mouse. The Couture de Minnie collection draws inspiration from Minnie's iconic style and incorporates trends most recently seen on the runways, from standout shades to fun textural elements."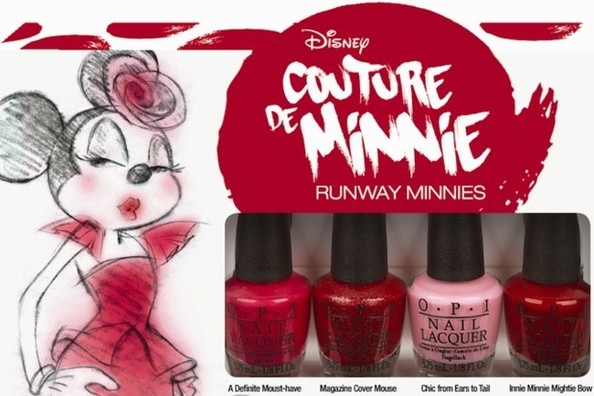 The Couture de Minnie collection includes:
Chic from Ears to Tail – This pop of bubblegum pink is totally fabulous!
A Definite Moust-Have – This fantastic fuchsia is at the top of my shopping list.
Minnie Style – This white and red glitter is the height of fashion.
Innie Minnie Mightie Bow – Catch this crimson by the toe!
Magazine Cover Mouse – The headline-making strawberry has sparkling texture.
Shop OPI Nails

Related articles