Essie Naughty Nautical Summer 2013 Nail Polish Collection. Essie is bringing in the Naughty this summer with their latest nail polish collection. With the theme being the collection being " Sound The Bell, I've Been Naughty Nautical" we can only guess that this will be one fun collection. Hitting stores this June, the collection will feature six new pastel shades that are anything but tame….

Hello, sailor. Get ready to embark on a chic color acventure in delicately sparkling lights and ultra soft brights that whisper easy elegance. It's smooth sailing into summer with a collection of nail color that's a casually cool affair — perfect for a stylish night on the town and a dress that feels more caftan on the beach than red carpet-ready gown.
"This collection is for women in a sunshine state of mind", says Founder and Creative Director Essie Weingarten. "Inspired by breeezy chiffon cover-ups and cashmere pastel evening looks, these six shades make the perfect wardrobe for any journey". Weingarten reiterated her passion for traveling, "There's nothing more calming than a cruise to paradise, it completely rejuvenates mind, body and soul". These colors were created to inspire relaxation. It's all about discovering a beautiful place to drop anchor and dive in — wheter you're sailing or just going about your daily life, a manicure in blissed-out essie color is the perfect summr accessory.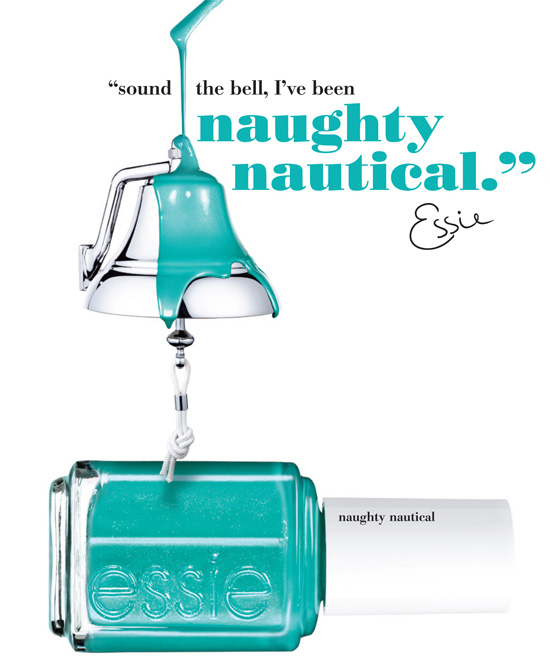 Naughty Nautical – marine blue-green shimmer
The more the merrier – juicy lime green
Sunday Funday – tangerine coral crush shimmer
Full steam ahead – pearlescent punch lilac
The girls are out – fuchsia peony sparkle
Rock the boat – shimmering french blue
Shop Nail Polishes

Related articles