China Glaze Fall 2013 Nail Polish Collection – Autumn Nights. China Glaze is already gearing up with their fall nail polish line up, which means we get a peek at what trends will be splashed on our nails come next season. The first of their fall collections is called Autumn Nights, which will include 12 new shades consisting of cremes and shimmery shades. I'm totally loving the hues expected to be  in this collection which rang from rich blues, to highly pigmented berry tones. You can grab this collection in stores starting in Sept. Look below for more collection photos and product names.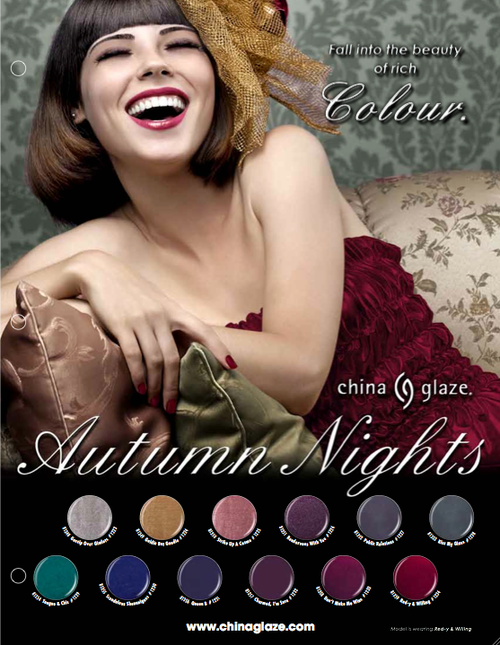 Gossip Over Gimlets – platinum shimmer
Goldie But Goodie – rust-gold shimmer
Strike Up a Cosmo – rose-gold shimmer
Rendezvous With You – purple shimmer
Public Relations – violet-gunmetal shimmer
Kiss My Glass – blue-gunmetal shimmer
Tongue & Chic – emerald shimmer
Scandalous Shenanigans – rich-blue shimmer
Queen B – blue-purple creme
Charmed, I'm Sure – purple creme
Don't Make Me Wine – red-violet shimmer
Red-Y & Willing – red shimmer
Shop China Glaze Products

Tissues and style? Who knew? The limited @
Kleenex Oval
available at
@Walmart
So cute!
Check them out here
#
KleenexStyle
#sp
Related articles