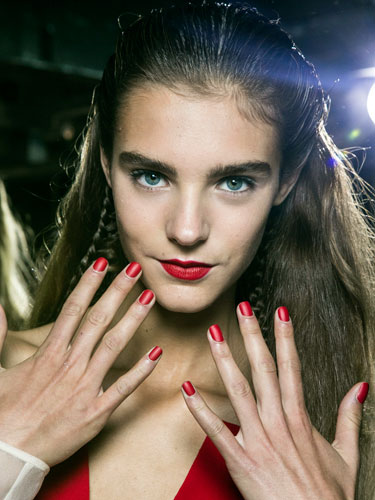 2014 Spring / Summer Beauty Trends – Top Trends To Try. Spring is in the air, which means it's time to brighten up our winter regimens, and switch them to our playful spring and summer routines. When it comes to spring / summer beauty trends, it's the perfect time to freshen up our looks. This season is full of classic selections that never go out of style such as glowly dewy skin and minimal makeup, and trendy looks we must have such as bold blue eyeliner.
When it comes to makeup this season, looks are going bold. From vibrant colorful blues, and green eyeshadow hues to metallic and colored liners. Shake up your look with colors that will grab attention, and make your wardrobe pop. Lips are really joining in on the action in the form of candy colored hues you won't believe till you see. Try out cherry lips, tangerine oranges, and even yummy bubblegum pinks if you dare.
If you're wondering about brows this season, bold yet polished brows are still a must! Keeping your brows thick, tamed, and even filled in is the desired look for the season that was spotted all over the runway. Preferred hair trends included a mix of braids, and hair accessories, while nails are getting pointed and sparkly. Look below to see most of the coveted beauty trends for spring 2014.
Check Out 2014 Spring Hair Trends
Related articles