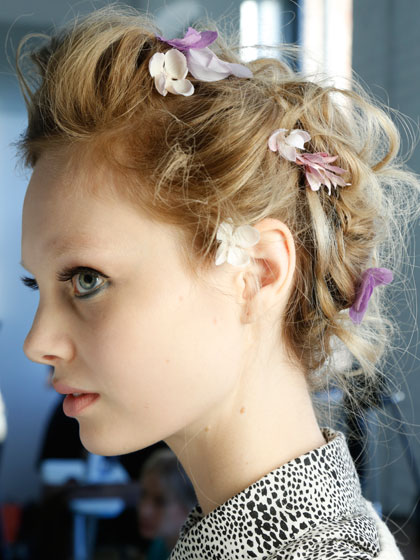 2014 Spring Hairstyles. Hottest hair trends to hit the 2014 spring season. When it comes to the latest ideas and choices you can play around with your hair this season, your strands are in for quite the thrill. On the runway there were countless new ways to rock your mane like the powerhouse beauty that you are.
From super shiny locks, to perfectly polished updos. 2014 truly marks the year speculator tresses. When it comes to hair this season it's important to note that three major trends are now in play, braids, high-shine, and hair accessories. If you create a style with any of these major component, then you my dear are certainly following the latest from the runway.  Hairstyles more now than ever have a rather romantic vibe. From soft curls, to ethereal updos. Don't be afraid to romance the curl with styles that are angelic, soft, and girly.
Accessorize your look this season with everything from headbands, to bows, hair pins, and everything in between. Even flowers can be used to create avant-garde styles that are sure to leave other breathless. Don't be afraid to have fun with accessorizes this season, wow and amaze, and in most cases when it comes to new hair must haves, the bigger the better! Look below for great hair ideas you can wear this spring.
Related articles