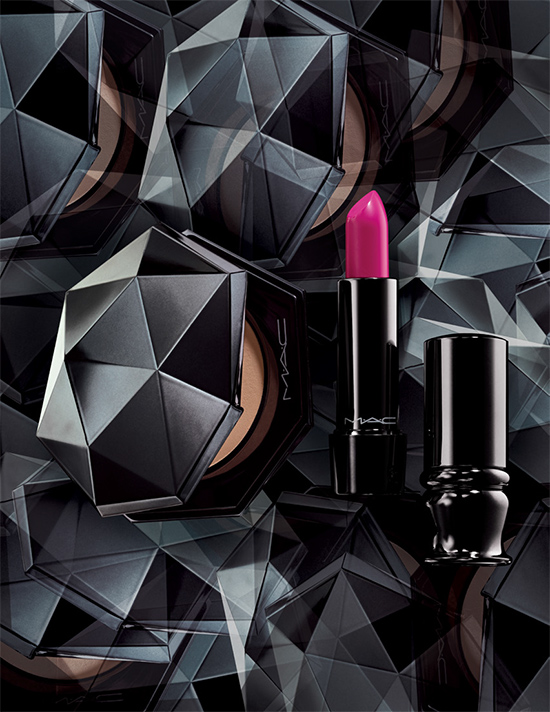 Mac introduces the Ultimate collection for the fall 2014 season. Avavible in stores September 24th, the collection features an array of lipsticks and sheer mystery powders in luxurious packaging. Look below for more details.
The epitome of bold luxury, M∙A∙C Ultimate combines an innovative design aesthetic with the sumptuous formulas of our Ultimate Lipstick and Sheer Mystery Powder. Ten new lip colours are utterly chic, while Sheer Mystery Powder smoothes onto skin in luminous hues that are barely there. Perfectly encased in modern geometric designs, this standout packaging features a sleek chrome finish in two cult-collectible accessories.
Availability: Online September 24th, in-stores October 2nd, 2014 (North America), October 2014 (International). Permanent.
Ultimate Lipstick ($23.00 U.S. / $28.00 CDN) (Permanent)
To Savour Light cool pink
Soft Pout Sheer pink peach with white pearl (Repromote)
Marque Soft light neutral pink
Ravishingly Rich Bright mid-tone orange
Femme-de-Luxe Bright pink
Catharina Fuchsia (Repromote)
Audacious Warm mid-tone red
Dangerously Chic Cool mid-tone red
Vogue en Violet Cool mid-tone violet
The Scene Deep berry (Repromote)
Fashion Fruit (Asia Exclusive)
In Vogue (Asia Exclusive)
Lover's Street (Asia Exclusive)
Sheer Mystery Powder ($60.00 U.S. / $72.00 CDN) (Permanent)
Light Medium Pale ivory
Medium Plus Tan beige
Dark Secret Deep caramel
Deep Dark Caramelized brown
Related articles