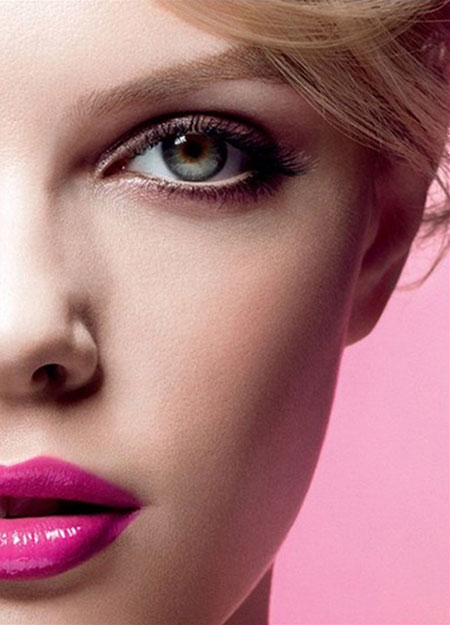 Need to create a makeup look in a flash? Check out the new Mac Look In A Box Collection.
Avavible in stores now, the new collection is a Nordstrom exclusive and features products that work together to creates one fab makeup look.
MAC Looks in a Box features a selection of kits offering expertly curated look in universal shades and finishes to complement your mood and skin tone. Two Face Kits come in colour waves of cool taupe and plum and warm beige and coral, each featuring three Powder Blushes, six Eye Shadows, two Lipsticks and duo-handled brush. The variety of hues allows you to mix, match and blend as you experiment to create your ideal combination. Three Looks in a Box kits combine Lipstick, Lipglass, Technakohl Liner and Veluxe Pearlfusion Eye Shadow Trio in distinct color scheme: pink, coral and neutral. Each comes with its own face chart, guiding you through the look for effortless application and a perfect finish. Looking to elevate your artistry? Basic Brush Kit and Advanced Brush Kit take your skills to the next level with a selection of our favorite blending and shading brushes for simple, pro-worthy application.
MAC All About Plum Look in a Box Face Kit – New – $49.50/ $59.50 CAD
Eye Shadows
All Races – cool-toned lilac (Matte) (Re-introduction & Limited Edition)
Lingering Dusk – rosey burnt plum (Satin) (New & Limited Edition)
Fashion Beat – mid-tone violet grey (Lustre) (New & Limited Edition)
Elementary Pink – soft pale pink (Satin) (New & Limited Edition)
Stormy Sunset – silver warm grey (Frost) (New & Limited Edition)
Blackboard – muted black (Frost) (New & Limited Edition)
Powder Blush
Style Cast – mid-tone coral with pearlized pigments (Frost) (New & Limited Edition)
Lesson in Love – soft yellow pink (Satin) (New & Limited Edition)
Lipstick
Dress to Impress – mid-tone blue pink (Amplified Creme) (New & Limited Edition)
Up The Amp – lavender violet (Amplified Creme) (Repromote)
Brush
275 SE Brush (Repromote)
316 SE Brush (Repromote)
MAC All About Beige Look in a Box Face Kit – New – $49.50/ $59.50 CAD
Eye Shadows
Light Study – soft peach (Matte) (New & Limited Edition)
Rocket Girl – mid-tone copper (Frost) (New & Limited Edition)
Sable Riche – mid-tone brown with copper pearlized pigments (Frost) (New & Limited Edition)
Plum Ember – burnt brown with pearlized pigments (Satin) (New & Limited Edition)
Honesty – pewtered bronze (Lustre) (Repromote)
Cocktail Black – mid-tone grey brown with pearlized pigments (Satin) (New & Limited Edition)
Powder Blush
Love & Laughter – coral with pearlized pigments (Satin) (New & Limited Edition)
Liberating – soft tan with pearlized pigments (Satin) (New & Limited Edition)
Lipstick
Modern Wow! – bright milky coral (Amplified Creme) (New & Limited Edition)
What's Haute – milky nude (Amplified Creme) (New & Limited Edition)
Brush
274 SE Brush (Repromote)
316 SE Brush (Repromote)
MAC All About Pink Look in a Box – New – $39.50/ $47.50 CAD
Lipstick
Embrace Me – bright fuchsia cream (Matte) (Repromote)
Lipglass
Unlimited Style – bright warm pink (Frost) (New & Limited Edition)
Technakohl
Photogavure – soft black with brown undertone (Repromote)
Veluxe Pearlfusion
Fabulous Three (New & Limited Edition)
MAC All About Coral Look in a Box – New – $39.50/ $47.50 CAD
Lipstick
Passion Charge – coral (Lustre) (New & Limited Edition)
Lipglass
Stoke the Flame – soft rosey coral with pearlized pigments (Frost) (New & Limited Edition)
Technakohl
Brownborder – deep chocolate brown (Repromote)
Veluxe Pearlfusion
Collective Chic (New & Limited Edition)
MAC All About Nude Look in a Box – New – $39.50/ $47.50 CAD
Lipstick
Soft Savour – mid-tone beigey pink (Lustre) (New & Limited Edition)
Lipglass
Feeling Fine – soft beigey pink with pearlized pigments (Frost) (New & Limited Edition)
Technakohl
Graphblack – rich graphic black (Repromote)
Veluxe Pearlfusion
Cool Campions (New & Limited Edition)
MAC Basic Brush Kit Look in a Box – New – $49.50/ $59.50 CAD
129 SE
204 SE
224 SE
239 SE
266 SE
MAC Basic Brush Kit Look in a Box – New – $49.50/ $59.50 CAD
159 SE
193 SE
214 SE
275 SE
Enjoy Product Photos
Related articles