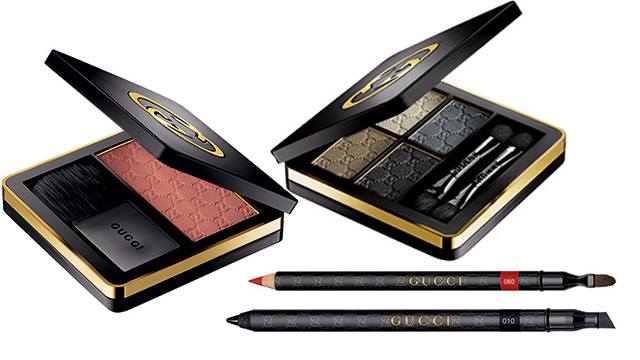 Feast your eyes on the new Gucci Makeup Collection for Fall 2014, a gorgeous new luxurious collection you'll sure to love!
Avavible in stores this September, the new Gucci Makeup collection has been a highly anticipated collection, and the fall lineup offers an exquisite variety of items ranging from red lip shades, to eyeliners, and even a glowing foundation. Look below for more details.
"For me, beauty and fashion are always connected. One doesn't exist without the other. Makeup is a key element of the Gucci runway show — it helps communicate the essence of the Gucci woman. Eyes, skin, lips — they're like accessories, all working together to create an unmistakable look." –Frida Giannini, Gucci Creative Director
Gucci Sheer Blushing Powder
There will be 8 shades available in pinks, berries, and apricots but in the promo image you can see Soft Peach.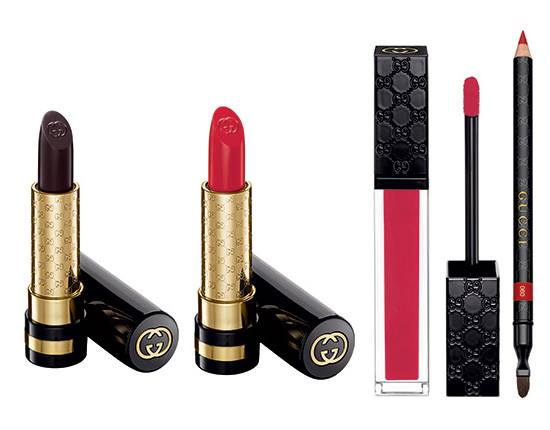 Gucci Audacious Color Intense Lipstick
Dark Romance is the shade in the photos, a truly dark opaque burgundy which will look intense on every skin tone. Definitely designed for those who dare to wear darker lip colors this one is more suitable for a night out.
Gucci Powder Brush
The new line will feature 8 makeup brushes while this one is ideal for applying powder or bronzer in a light touch.
Gucci Eye Impact Longwear Pencil
Iconic Black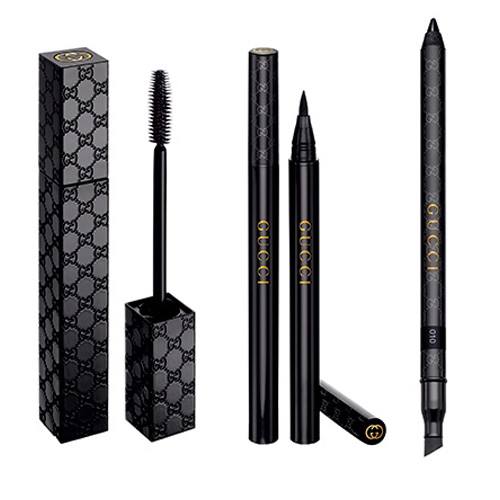 Gucci Lip Vibrant Demi Glaze Lip Lacquer
Iconic Red, a true cool bluish red, is representative from all the new 20 shades this line has to offer.
Gucci Golden Glow Bronzer
Indian Sand, a fleshy-brown color creates a believable glow and a radiant sun-kissed effect.
Gucci Magnetic Color Shadow Quad
Cosmic Deco features black, olive, silvery champagne, navy shades with a metallic shine and pearl effects.
Gucci Magnetic Color Shadow Duo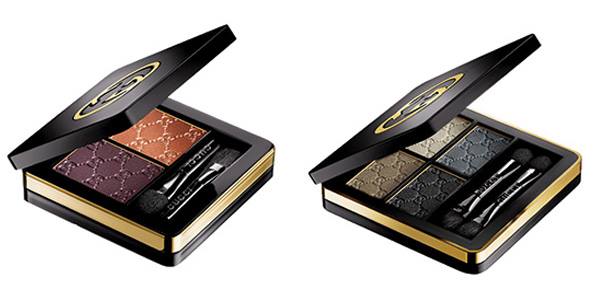 Sunset features a warm plum and a peachy-copper shadow but all the new shadow duos don't work with a damp brush so don't worry as Gucci promises intense color even when you'll be applying them dry.
Gucci Luminous Perfecting Concealer
Hides dark circles, brightens dull skin and softens fine lines. It can be used on the cheeks and brow bone to give luminosity.
Gucci Sleek Contouring Lip Pencil
Iconic Red, is the stand out color from the 8 shades available in a creamy matte texture.
Gucci Luxurious Moisture Rich Lipstick
Iconic Red, a rich classic red is one of the 25 shades available. I can't wait to see the bright fuchsias and nude tones.
Gucci Eye Power Liquid Liner
Iconic Black delivers a glossy, ink pigment so you can easily create the perfect cat eyes.
Gucci Eye Opulent Volume Mascara
Iconic Black
Gucci Lustrous Glow Foundation SPF 25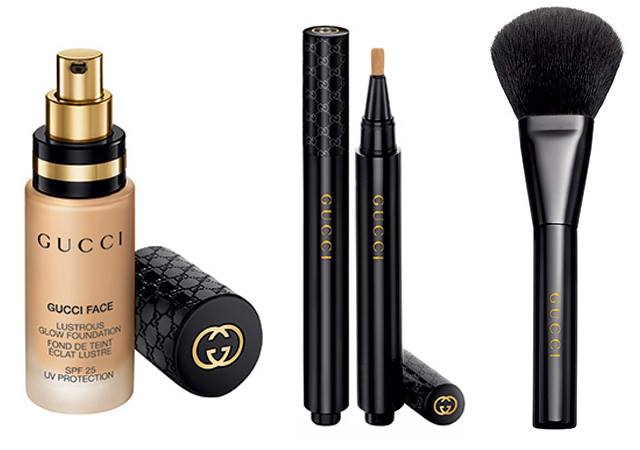 Available in 18 shades with a silky texture.
Gucci Eye Magnetic Color Shadow Mono
Iconic Ottanio is one of the 6 shades in gold, black, red, bronze and copper.
Gucci Luxe Finishing Powder
Related articles