Lancome Fall 2013 L'Absolu Desir Makeup Collection. Put on the glam this fall season with the latest collection from Lancome. Their L'Absolu Desir collection is filled of glamorous packaging and luxurious shades sure to help glam up your everyday style.  With products ranging from bold lipsticks to rich pigmented nail hues and even a new blush shade we're sure you'll love what this collection offers, only the very best for the modern woman of today. The Ad campagin even featured talented actress and iconic beauty Kate Winslet. Available in stores this August, look below for more product photos and details.

She is elegant, CHIC, superb and TOTALLY effortless… She constantly reinvents HER STYLE WITH joy and INDIVIDUALITY. She has that "je-ne-sais-quoi " CHIC touch; she CASTS A SPELL without even noticing. She has just the right amount of SOPHISTICATION and is always UNDERSTATED. In a word, she is…PARISIAN !
This season, Lancôme draws inspiration from iconic « effortless made-in-Paris chic ». A unique sense of elegance nestling within a secret: luxury teamed with creativity, bold twists on classics and new arrivals alongside the art of rewriting codes with a touch of wit. Following in Parisian steps, take an inspiring walk with Lancôme from the roses in Parc Monceau to the lights of the Eiffel Tower. The essence of their inimitable style is captured in a sumptuous collection with a fresh take on Paris' best-known beauty symbol: red lips, skilfully sculpted in vibrant colour, accompanied by the perfect manicure… Effortless…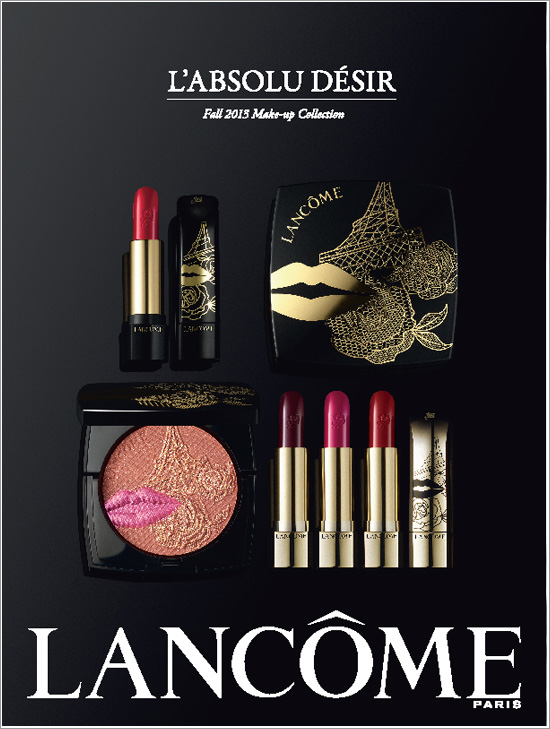 L'Absolu Rouge
The signature of Parisian elegance…What could be more emblematic than timelessly red lips? To celebrate this symbol of French beauty, Lancôme pays homage to its cult lipstick, L'absolu Rouge. Inspired by the eternal city of Paris, Lancôme invents an all-new look for this star lipstick, teaming the brand's distinctive rose symbol with the silhouette of the Eiffel Tower. The design, as delicate as lace, is picked out in gold on a black lacquered case.
06 Rose Nu – pink-tinged nude
47 Rouge Rayonnant – radiant crimson
132 Caprice – vermillion red with a dash of orange
186 Rouge Désir – rich, velvety garnet red (New Shade)
322 Rose Désir – radiant fuchsia (New Shade)
386 Prune Désir – a deep, mysterious plum (New Shade)
Blush Rose Desir
Lancôme has created Blush Rose Désir, a precious powder with an all-new design reminiscent of a postcard from Paris, complete with the Eiffel Tour, roses and lipstick kisses…With two light-infused, orange- and pink-toned shades, this blusher for all complexions has been specially crafted to enhance the lipstick and bring out its radiance. Orange, the tinted shade is used to sculpt the cheeks, while the pink-tinted shade can be smoothed on to warm the top of the cheekbones.
The black case of Blush Rose Desir is embossed in gold, matching the L'Absolu Rouge design and part of Lancôme's charming tribute to Paris this season. For perfect application every time, Blush Rose Désir comes with an exclusive, ultra-precise, double-ended brush. The wide brush is used to sweep blusher over the cheeks, while the smaller brush delivers just the right amount of powder for application round the lips, to illuminate the lipsticks and prevent feathering all day long.
Vernis In Love
This season, Vernis In Love creates a striking contrast in the form of a completely unexpected, faux-black trio, to set off the intensity of the L'Absolu Désir lipsticks. Multi-tonal and deep, yet subtle and elegant, pure black takes on a new dimension. An ultra-glossy and easy-to-apply formula that has made Vernis In Love a worldwide success.
185 Purple Fiction – intense plum
385 Black Sepia – brown
485 Grey Lumière – slate grey
Cheek Contour Brush
#25
Related articles