2013 Fall Hair Color Ideas. Hair color mavens can rejoice, as the new season brings forth many new exotic and trendy hair coloring ideas. Now that you know all of the hottest trends for the season, it's time to spice up your look even further by trying out a new hair color. Typically the fall and winter season women choose to stick with darker hues. They go back to their natural hair colors, and stick with dark tones to match the season. While black hair coloring is having a moment, you can also have some fun with lighter colors as well..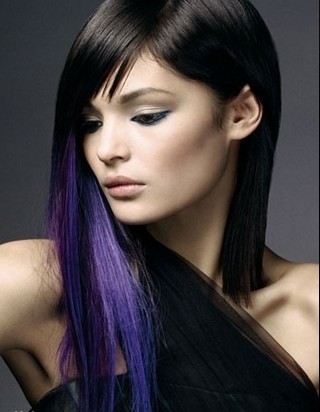 Since this season is all about punk rock, we can expect hairstyles to get a little wild. Two-toned hair coloring is still very trendy, so if you're currently on the fence about choosing between two different shades, why not try them both and really have some fun this season!  You can also try dipped dyed ends, and mixtures of bold colors such as reds, maroons, and oranges and intertwining them within your own locks. Temporary hair-coloring is a great way to go out and try a bold hair idea, and if your heart falls in love be sure to get a more permanent spin on the colors you love. You can also try bold streaks or chucks of color if you really want to have some fun.
If bold color isn't your thing, you can always opt for trying out hair accents such as feathers, and clip-in extensions to add to your hair without the hassle or the worry of actually dying your strands. Other ways you can spice up your look is by going after this year's most sought after hair colors. Red head's are still having a moment, as Hollywood continues to dye their hair strands, and black dark colors are also highly favored as mentioned in the beginning of the article. Whatever you decide to do with your hair this season remember that it's only hair, and it's okay to live a little. Check out some of the different ways you can dye your hair below, and be sure to check out more fall hair trends here.
Related articles