By now we all know that natural makeup is on the rise and this spring and summer is the perfect season to showcase the latest trends. Glowing skin, dewy lips, and plenty of pastels is what was spotted on this years runways. Along with some exotic trends such as neon hued makeup, bold gold hues and metallic details. From New York to London, to Milan and of course Paris we got a glimpse of all the sought after trends everyone will be coveting in the seasons ahead.
Pink Hues
Soft pink hues can be seen on the lips, lids, and cheeks this season and can easily be a natural hue for many. Pink can be naturally girly, playful and a true sign of femininity. From bold and vibrant pinks, to more soft and matted. One things for sure pink will be a go to look for spring colors. One way to wear this trend is by creating a monochromatic look by wearing the hue on both the lids as well as the cheekbones.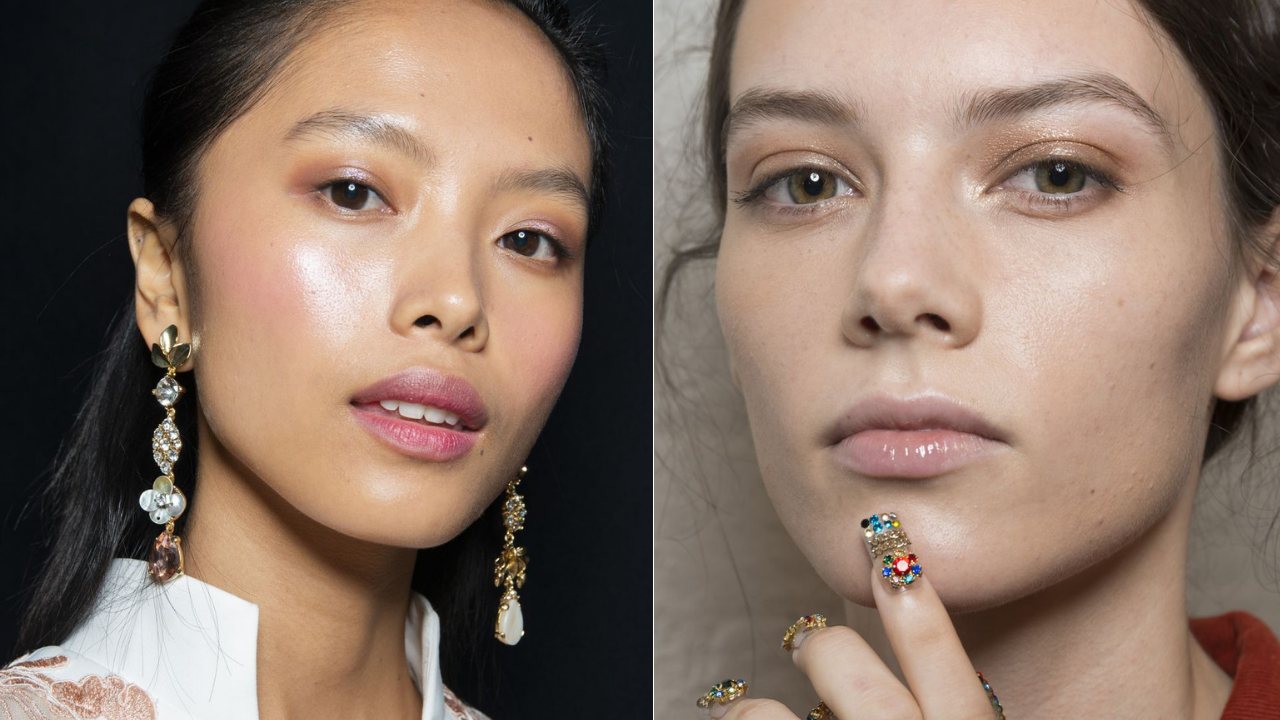 Pops of Glitter
Glitter is always a good idea, and this season the runway was filled with beauties rocking glitter in the form of eyeshadow, as well on on their lips.
Flecks of glitter is the correct way to rock this trend and was spotted on the cat walk shows of Kate Spade, and Valentino just to name a few. For a bold look on the eyes keep things playful and glam by using colors of silvers, gold, and pinks. You can apply the color above the crease of the eyes or in the inner corner. Keep the rest of the face clean and and leave all attention on your eyes.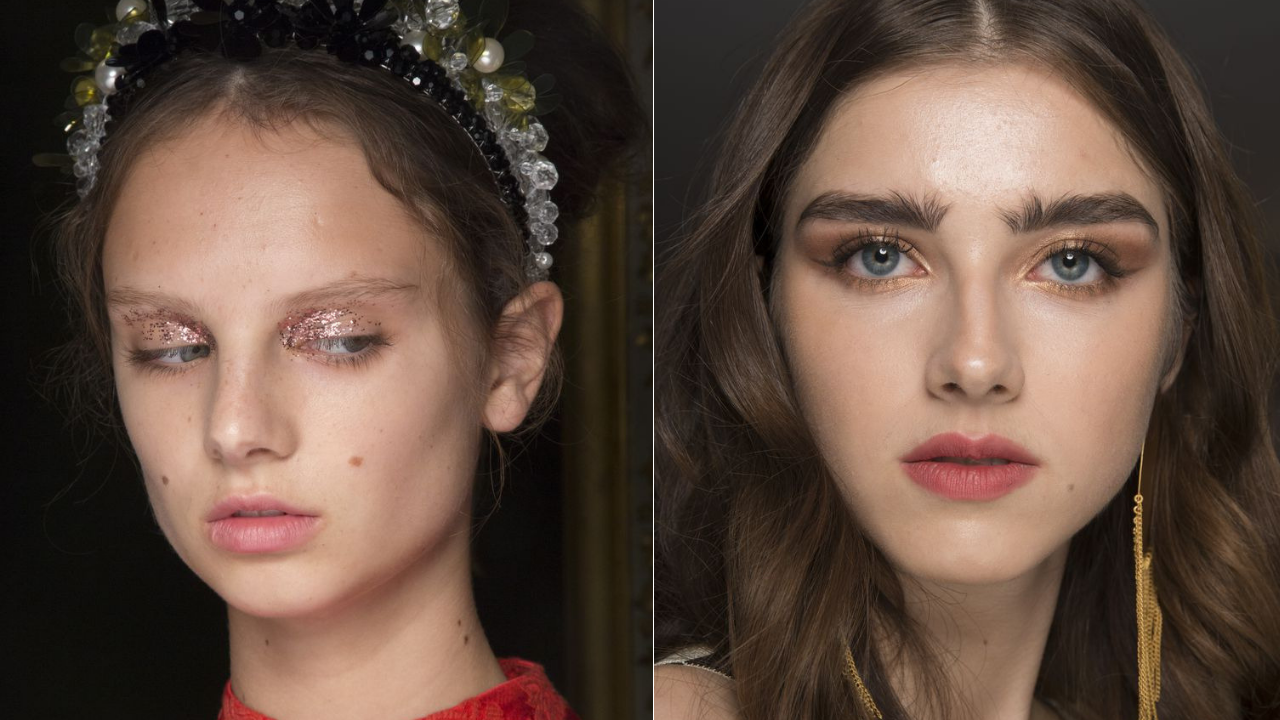 Pastels
A truly unexpected trend for spring 2019 will be the look of pastels. This trend was spotted on the runways of Marc Jacobs and Missoni. Pastels are an ideal trend because they convey a softer and more feminine approach to color. Wear this look all over the lid, or make it more soft and subtle by wearing it in the form of liner and be sure to skip the mascara in order to really make your eyes pop. Shades of pink, blues and greens are the preferred look for this trend and for an even softer approach apply to just the inner corners.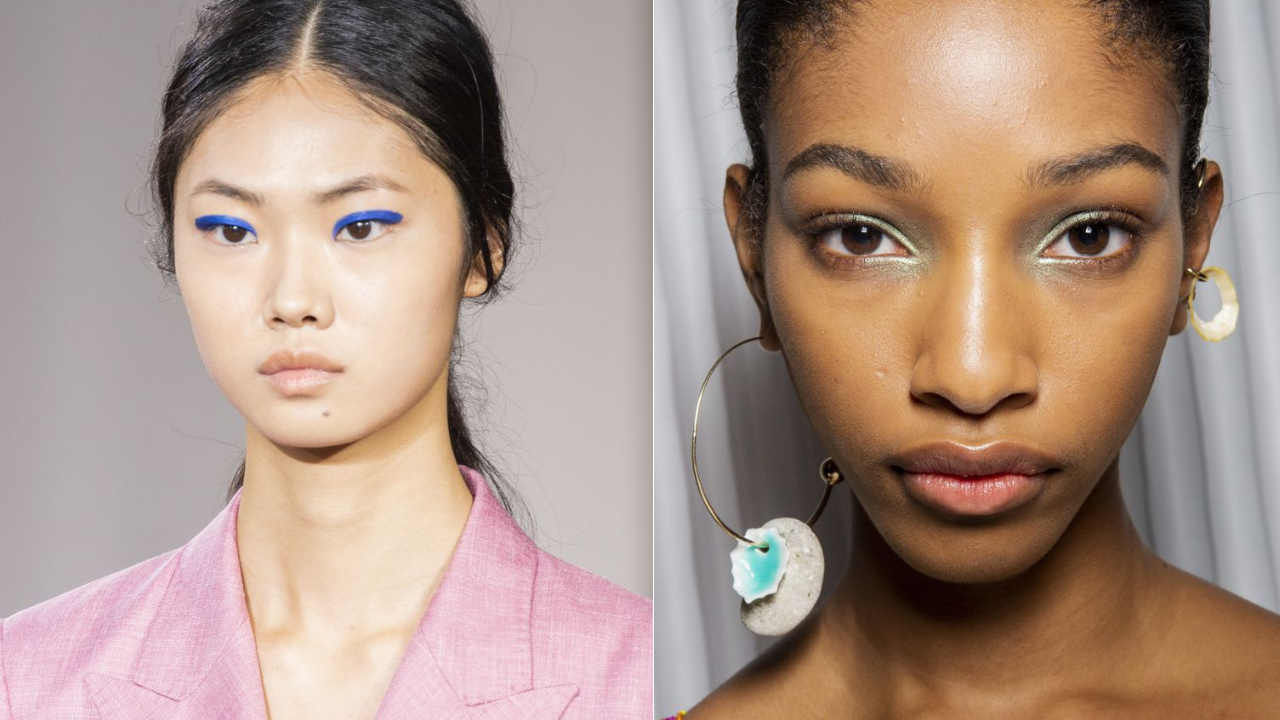 Metallic Hues
Metallic hued makeup is once again on the rise with golden hues being at an all time high. Not only is this trend popular for eyeshadow colors but for blush and lipstick hues as well. If you plan on trying out this trend we suggest only playing up one feature with a metallic hue at a time.
Gold adds just the right touch of glamour. Wear this trend by sweeping gold or iridescence hues across the lid or opt for liner only for a causal sophisticated touch. Play up your cheeks with soft bronze kiss by the sun blush or try a reddish shiny sparkly foiled look on your lips. High shine is what really makes this trend pop.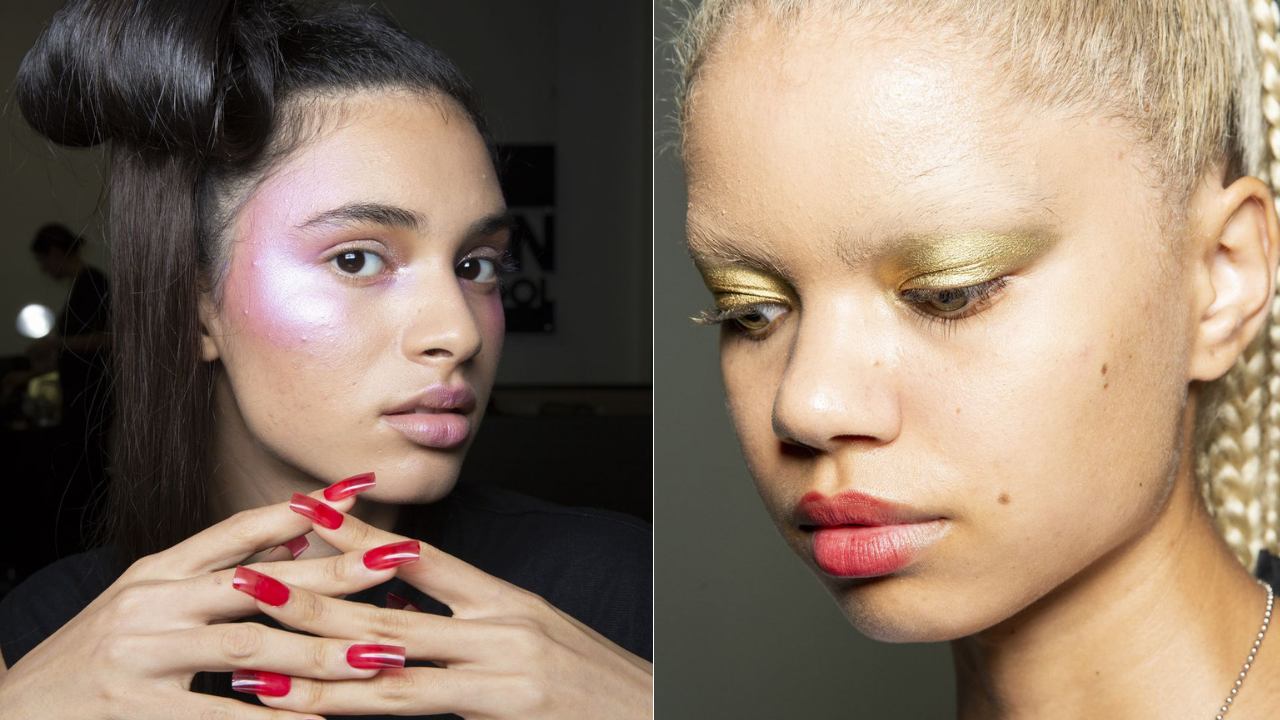 Colorful Eyeshadow / Neon Hues
Just when we thought we could go completely bare this season designers took it upon themselves to go completely bold in both fashion and makeup
this season. This trend is truly for the daring and can be worn by doubling or tripling up color palettes. Wear on the lid as a single eyeshadow shade, or by wearing it as a liner. Neon colors such as pink, greens and yellows work best and look stunning in the form of wing-out liner and underliner styles.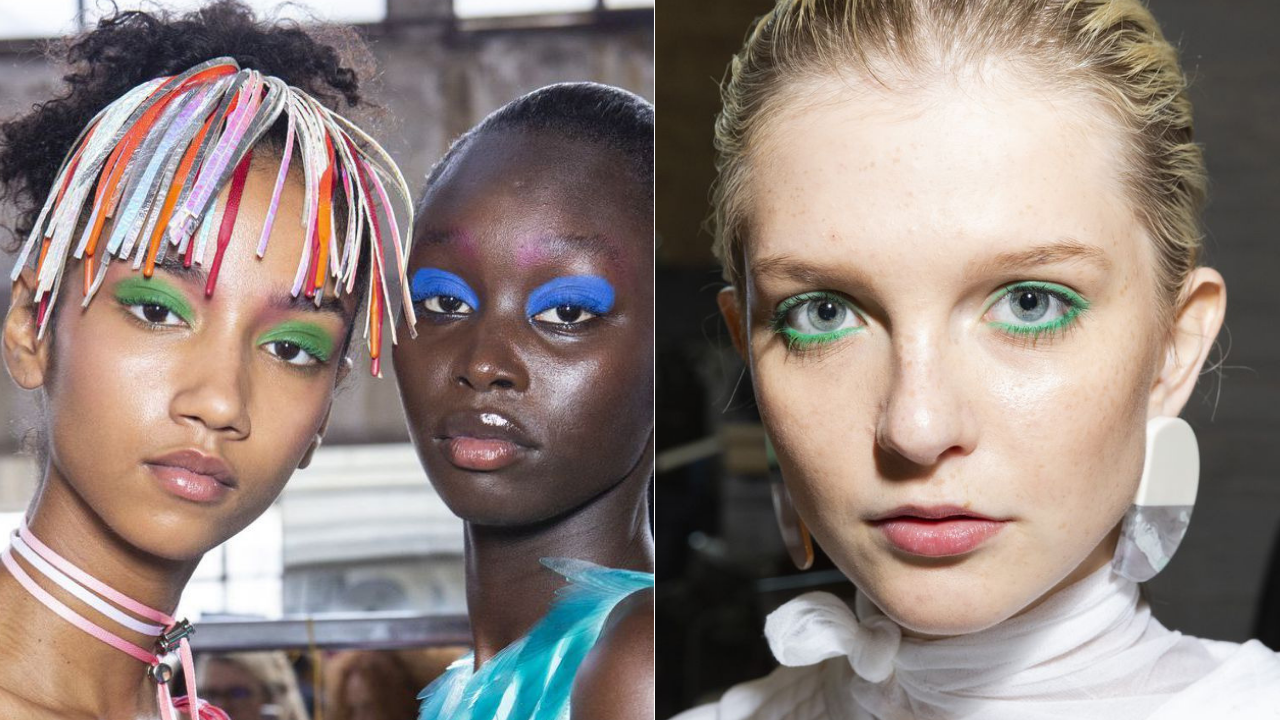 Underliner
Underliner is finally having it's moment in the sun and we're definitely here for it! This 90's inspired trend is simple to recreate and was spotted on runways ranging from Dior to Ashley Williams. Smudge the look out for a more grungy smoldering feel or keep your lines clean and tidy. To create a high fashion vibe extend the liner out past your outer corner and keep your lines clean.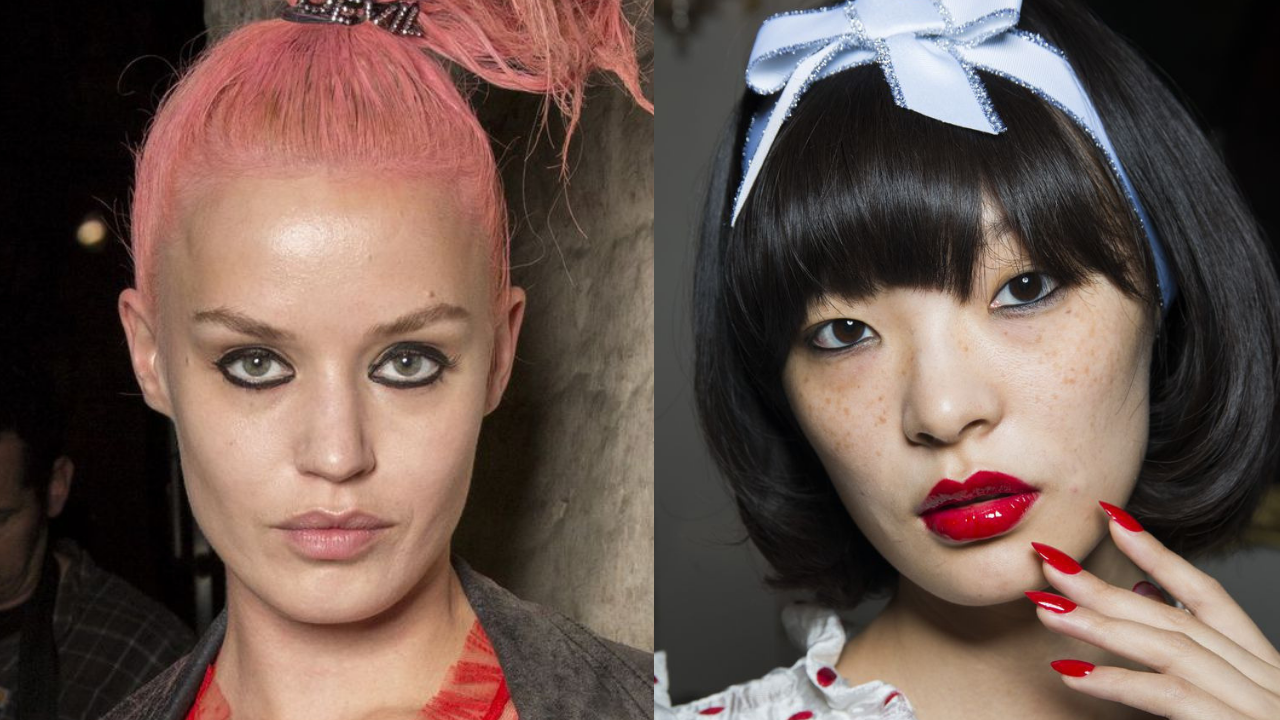 Glossy Lips
Gloss worn on the lips is another trend expected to be big for the 2019 spring season back from the 90's. Glossy lips, dewy skin and black eyeliner make for a winning combo. If you're looking to try any of the most coveted trends on our list this one is the easiest! Wear this trend with a simple clear formula for a nice everyday take or wear a colored formula with high shine.
View More Spring Makeup Trends