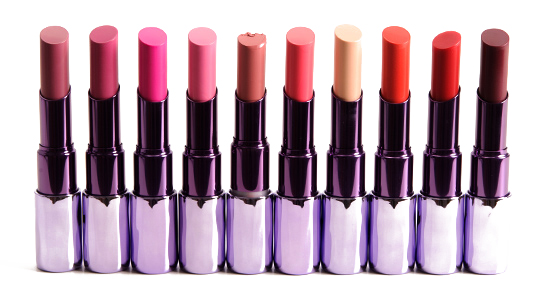 Urban Decay Spring 2015 New Product Launches. Wondering what UD has in store for you in Spring 2015? How about new Sheer Revolution Lipstick shades, Moondust Eyeshadow and even a new foundation. Expected to launch this Jan, look below for more details.
Sheer Revolution Lipstick ($20.00) (New, Permanent)
Sometimes you want the bad boy. Others dig the artsy, free-spirited type. But what if you really want the guy that has it ALL? We can't solve your relationship dilemmas, but we can give you the best of both worlds when it comes to lip color. Urban Decay launches Sheer Revolution Lipstick: creamy, badass luxury meets sheer, pigmented color. It's everything you love about Revolution Lipstick–with a sheer and shiny finish. Wait until you apply Sheer Revolution lipstick for the first time–it feels amazing! Like our original formula, this sheer version hugs your lips and has a buttery-smooth application without feeling like it's going to slide off. Available in ten shades, each one has a rich, creamy feel and a gorgeous, high-shine finish.
Sheer Ladyflower Sheer rose-pink
Sheer Streak Sheer coral-pink
Sheer F-Bomb Sheer red
Sheer Liar Sheer pinky-brown nude
Sheer Rapture Sheer dusty rose
Sheer Anarchy Sheer fuchsia
Sheer Shame Sheer berry
Sheer Slowburn Sheer orange-red
Sheer Obsessed Sheer baby pink
Sheer Walk of Shame Sheer pale nude-pink
Moondust Eyeshadow ($20.00) (New, Permanent)
Ether Light purple with pink-blue 3D sparkle and shift
Scorpio Matte black with gold 3D sparkle
Solstice Metallic pink-red with green 3D sparkle and shift
Cosmic Metallic white with iridescent 3D sparkle and shift
Naked Skin Ultra Definition Powder Foundation ($36.00) (New, Permanent)
Want a foundation that delivers amazing coverage, is long-lasting and works wet and dry? Urban Decay introduces Naked Skin Ultra Definition Powder Foundation. Our advanced formula lasts eight hours and provides weightless, buildable coverage with the luminous, demi-matte Naked finish you crave. What sets it apart? While traditional powder foundations can be dry and look dusty or cakey on the skin, Naked Skin always blends beautifully and wears comfortably. Tis revolutionary formula even feels different: almost creamy to the touch. Like the rest of the Naked Skin lineup, our Powder Foundation diffuses light to blur fine lines and wrinkles to make you look professionally retouched. Go ahead and apply more in the areas where you need extra coverage; our ultra-forgiving formula delivers true complexion perfection in 14 meticulously calibrated shades. No matter how much or how little you apply, all you see is beautiful, perfected skin.
Fair Cool
Fair Neutral
Light Warm
Light Neutral
Medium Light Neutral
Medium Light Cool
Medium Light Warm
Medium Neutral
Medium Warm
Medium Dark Golden
Medium Dark Neutral
Dark Warm
Dark Neutral
Deep Neutral
Naked Skin Weightless Complete Coverage Concealer ($28.00) (New, Permanent)
Your secrets may not be the stuff of celebrity gossip headlines, but let's face it: We've all got things to hide. Not to worry; we've got your back. Urban Decay introduces Naked Skin Weightless Complete Coverage Concealer. Our weightless formula gives you full coverage in an instant. A liquid concealer like no other, our high-tech formula melds like a second skin–to cover imperfections without making you look covered up. You'll be amazed by how different it is (and instantly hooked!). Get buildable, even coverage with an invisible Naked Skin feel and a demi-matte finish. For complete coverage, just keep building; no matter how much you apply, Naked Skin Concealer always blends beautifully and NEVER settles into fine lines. With eight meticulously calibrated shades that coordinate with our new Naked Skin Powder Foundation, we've got even your most scandalous flaws covered. Our new shade-matching system and new complexion matrix provides a clear starting point for finding your perfect shade: the first part represents shade intensity, and the second indicates shade undertone.
Fair Neutral
Light Warm
Light Neutral
Medium Light Neutral
Medium Neutral
Medium Dark Warm
Medium Dark Neutral
Dark Neutral
Mascara Resurrection ($16.00) (New, Permanent)
There are a lot of things in this world that you can't take back–like that spontaneous decision to put a skunk stripe in your hair post-breakup (yes, WZ did that). While we don't have a time machine, Mascara Resurrection from Urban Decay is the next best thing. The ultimate do-over, this clear refreshing serum brings your mascara back to life so you can keep piling it on. Like a killer lash comb in liquid form, our revolutionary formula combs through lashes to soften mascara and get your lashes ready for another coat. There's NOTHING else like it! Mascara Resurrection instantly revives your mascara as it separates and defines each lash. Want to top off your mascara later in the day? A quick coat of this serum makes lashes pliable and ready for more. If you botched your mascara or didn't pull it through well, simply comb Mascara Resurrection through your lashes to refresh, then reapply mascara.
source: temptalia