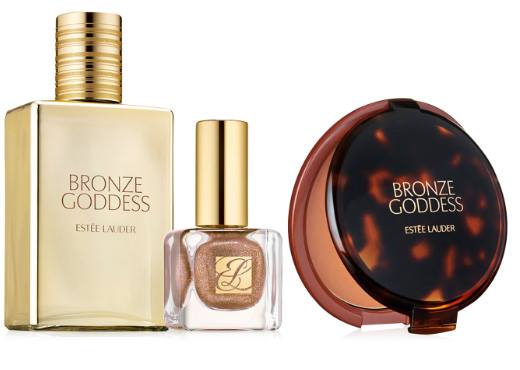 Estee Lauder Bronze Goddess Collection For Summer 2015.  Become a bronzed Goddess with the latest collection from Estee Lauder. Featuring shimmering nudes just in time for summer, this collection is filled with products guaranteed to give you a glow. From the new shimmering body oil spray, to a luxurious glowing whipped body creme. available in stores now, look below for more details.
Introducing the Shimmering Nudes. Skin is luminous with a sun-kissed glow. Eyes smolder and lips tempt. Plus, Eau Fraîche Skinscent and seductive ways to wear it. Let the sun worship you.
Bronze Goddess Eau Fraiche Skinscent – New & Limited Edition – $65.00 for 100 ml
Estée Lauder Bronze Goddess Eau Fraîche is the fragrance that worships every inch of you with its sensuous, sun-drenched blend of bergamot, warm amber, tiare flower and vanilla combined with delicious creamy coconut.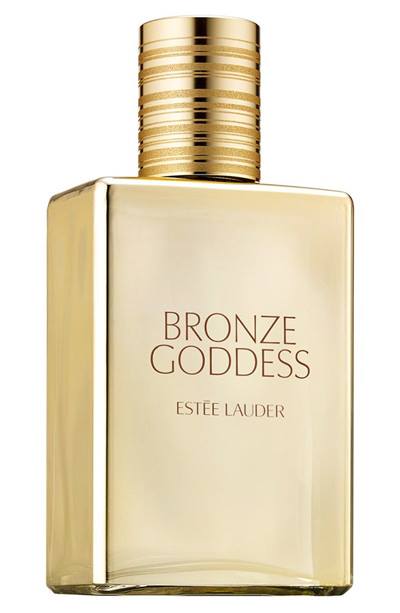 Bronze Goddess Shimmering Body Oil Spray – Limited Edition – $40.00 for 50ml
Estée Lauder Bronze Goddess Shimmering Body Oil Spray is a lightweight, scented body oil that gives your skin a sensual sheen and a soft, silky feel. Spray it on and surround yourself with the seductive, sun-kissed fragrance of Bronze Goddess.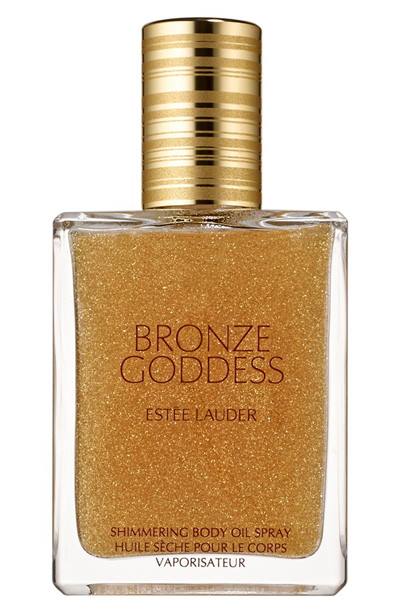 Bronze Goddess Whipped Body Creme – Limited Edition & Repromote – $45.00 for 200ml
This super-luxurious, luscious body creme smooths onto skin with the seductive sun-kissed fragrance of Bronze Goddess. Drenches skin with decadent moisture and leaves it silky smooth. Bronze Goddess, the sensuous, sun-drenched blend of Bergamot and Mandarin, cooled with Tahitian Gardenia Petals and Coconut, warmed with Amber, Sandalwood and Vetiver. It's hotter than the sun.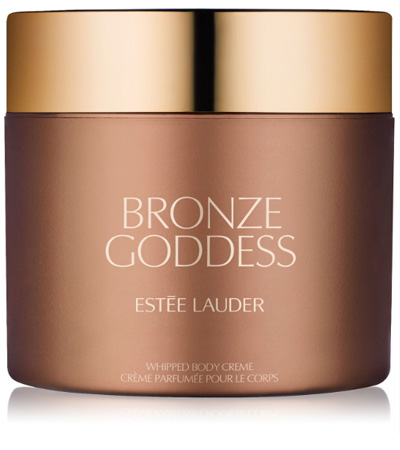 Pure Color Nail Lacquer – New Shades – $21.00
Blossom Bright
Empowered
Inspiring
Pink Dragon
Surreal Sun
Sumptuous Extreme Waterproof Lash Multiplying Volume Mascara – $26.00
Extreme volume. Even when wet. Lashes seem to multiply, magnify and grow. Exclusive multiplying fibers (three different high-volume fibers) act almost like lash extensions, multiplying and growing the look of lashes. Creates extreme volume, lift and curves–that last through all wet conditions. All weather. All waterproof. Extreme 10-hour wear. Conditioning Lash-Advancing Vitamin Complex keeps lashes supple. Oversized BrushComber Extreme combs and separates for clump-free definition.
Extreme Black
Related articles