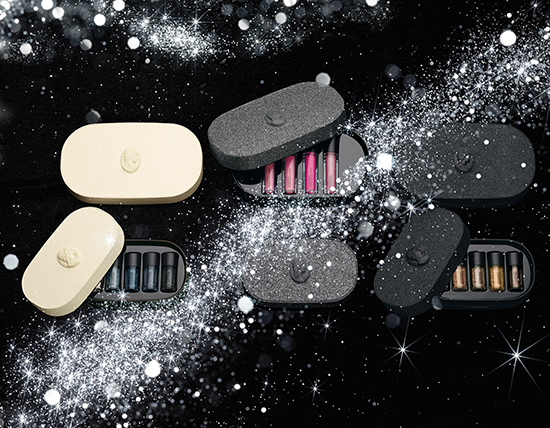 In other Mac holiday news, there will of course be makeup kits for 2014, and the Objects of Affection Collection will feature an array of Mac favorites from the year including lipglass sets, and pigments, launching online October 27th, look below for more details.
Colour takes over this holiday in a collection of mini kits. M∙A∙C Objects of Affection Pigments and Glitter are the guilty pleasure of the season, in four shade waves: Silver and Blue, Pink and Rose, Gold and Beige, and deep Bronze. M∙A∙C Objects of Affection Lipglass kits embellish lips in shades of Pink and Plum, Nude and Red and Nude and Coral.
Available: Online October 27th, in-stores November 6th, and in November Internationally.
Objects of Affection/Nude + Red Lipglass ($35.00 U.S. / $42.00 CDN) (Limited Edition)
Paper Lantern Frosted warm pink (Cremesheen Glass) (Permanent)
Dynasty at Dusk Frosted neutral pink (Cremesheen Glass) (Permanent)
Deelight Midtone neutral (Cremesheen Glass) (Permanent)
Love Alert Raspberry red with red pearl (Dazzleglass) (Permanent)
Objects of Affection/Pink + Plum Lipglass ($35.00 U.S. / $42.00 CDN) (Limited Edition)
Fashion Scoop Clear pink (Cremesheen Glass) (Permanent)
Loud & Lovely Blue pink (Cremesheen Glass) (Permanent)
Pagoda Frosted cool pink (Cremesheen Glass) (Permanent)
Rags to Riches Plum pink with teal and red pearl (Dazzleglass) (Permanent)
Objects of Affection/Nude + Coral Lipglass ($35.00 U.S. / $42.00 CDN) (Limited Edition)
Rising Sun Frosted bright orange (Cremesheen Glass) (Permanent)
Fashion Whim Light beige (Cremesheen Glass) (Permanent)
Stately Shimmer Creamy peach coral with pearl (Cremesheen Glass)
Courtly Coral Warm rose sparkle (Dazzleglass)
Objects of Affection/Gold + Beige Pigments + Glitter) ($35.00 U.S. / $42.00 CDN) (Limited Edition)
Pretty It Up Dirty olive with pearl (Pigment)
Lithe Peachy nude (Pigment)
Deep Brown Dark chocolate brown (Pigment) (Permanent)
Gold Sparkly chunky gold (Glitter) (Permanent)
English Gilt Bright champagne (Pigment)
Objects of Affection/Pink + Rose Pigments + Glitter) ($35.00 U.S. / $42.00 CDN) (Limited Edition)
Reigning Riches Soft copper (Glitter)
Whisper Pink Soft beige pink with pearl (Pigment)
Tan Muted pinky brown bronze (Pigment) (Permanent)
Rose Rose with copper sparkle (Pigment) (Permanent)
Heritage Rouge Dirty brown plum (Pigment) (Permanent)
Objects of Affection/Silver + Blue Pigments + Glitter) ($35.00 U.S. / $42.00 CDN) (Limited Edition)
Deep Blue Green Rich deep bluish green (Pigment) (Permanent)
Dark Soul Charcoal black smoked with gold (Pigment) (Permanent)
Blue NoirDirty grayish blue (Pigment)
White Soft pearl white (Pigment)
Grey Sparkly chunky grey (Glitter) (Permanent)
Objects of Affection/Bronze Pigments + Glitter) ($35.00 U.S. / $42.00 CDN) (Limited Edition)
Naked Deep Dark Darkened brown (Pigment) (Permanent)
3D Copper High glitter copper (Glitter)
Melon Soft bright golden peach (Pigment) (Permanent)
Chocolate Brown Chocolate copper bronze (Pigment) (Permanent)
Copper Smooth high-shine copper (Pigment)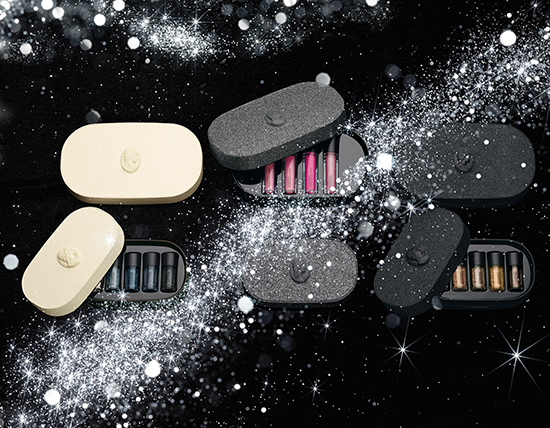 Related articles