Sneak Peek – Take A Look At Elena and Caroline's Prom Dresses From 'Vampire Diaries'. For many prom night is around the corner, and over in Mystic Falls Elena and Caroline are "doing it up"  for their prom night  in true Vampire style. Their prom episode doesn't air until mid April, but we can get a sneak peak look at their gowns now to tide us over.

Elena stepped out in a gorgeous burgundy gown, that featured a printed style and kept strapless to show off her arms. Her dress is designed by Theia retailing at $1495.
Caroline's Dress features the ever popular mermaid style for this season, kept Ivory and also strapless, her Sherri Hill that retails for $898 and features tons of bead-work that leaves us breathless. We can tell by the colors that Elene's turned up vampire side is reflected in her bold burgundy colored dress, while Caroline's softer side is reflected in her muted ivory toned gown. See both girl's look after the drop. Check our prom hairstyles for 2013 here.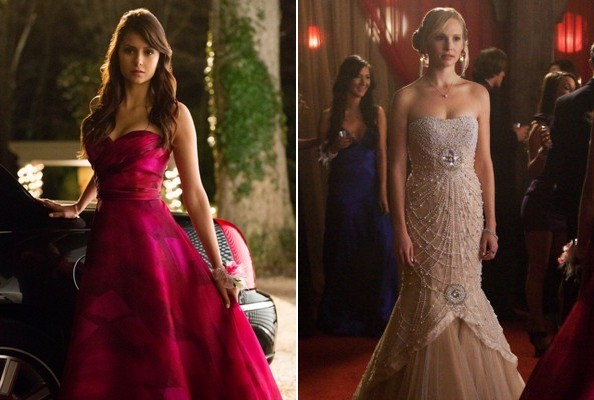 Steal Their Looks
Related articles