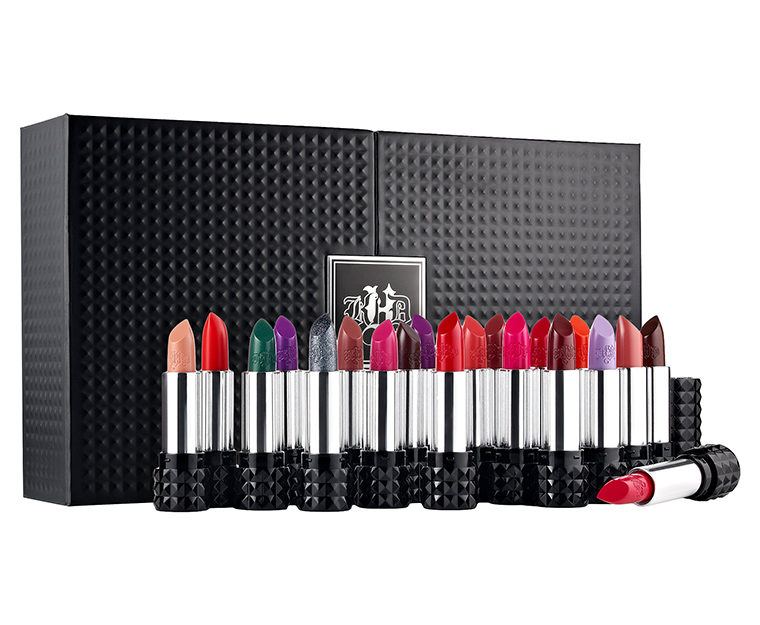 Kat Von D Studded Obsession Studded Kiss Collectors Edition Set. Kat Von D is bring us yet another fabulous lipstick set for the holiday season, and this time it's even bigger. Last year's Studded Kiss collection sold out rather quickly and we can pretty much expect the same for this year's line up! 20 lipsticks will be featured with hues ranging from the lightest nude to the darkest berry. Available in stores now, look below for more details.
Kat Von D Studded Obsession Studded Kiss Collectors Edition Set
Fuel your Studded Kiss obsession with the ultimate collection of Kat's award-winning lipstick. In celebration of the one-year anniversary of Studded Kiss, Kat's chosen the best of the best—bold pops, reds, pinks, and nudes—to craft this collector's edition of 20 must-have lipsticks. The set features hard-to-find favorites and the newest signature shades. The lipsticks are perfectly nestled in a chic black keepsake case, ideal for storing and displaying the collection. It also includes a gorgeous insert with a personal note hand-signed by Kat, plus four awesome Studded Kiss shade pairings for totally fearless lip looks. Kat also reveals the personal stories behind each lipstick, letting you in on the muses and memories that inspired all of her incredible shades. $420.00 value (20 full-sized lipsticks, retailing for $21 each).
Studded Obsession Studded Kiss Collectors Edition Set -$295.00 -Limited Edition, Sephora Exclusive
Coven
LUV
La Femme
Wonderchilde
Noble
Backstage Bambi
Bachelorette
A Go-Go
Countess
Hellbent
Underage Red
Sexer
Adora
Lovecraft
Cathedral
NaYeon
Magick
Mercy
Piaf
Plan 9
Related articles