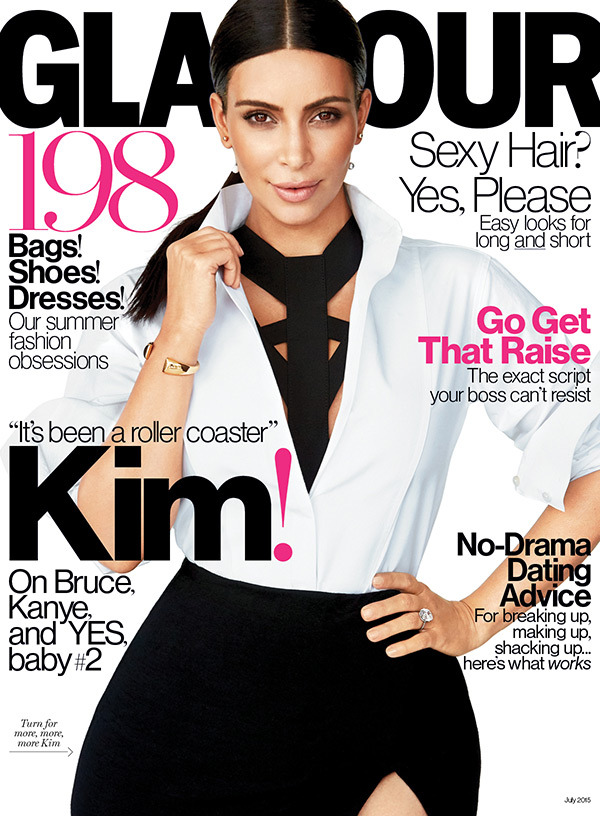 Kim Kardashian West Announces Baby Number 2 & Shares Details In Glamour July 2015 Issue. Last night on Keeping Up With the Kardashians, Kim announced that her and Kayne are officially expecting baby number 2, but getting there was not an easy task for the couple since they tried multiple procedures and methods for conceiving. In the latest issue of Glamour Kim opens up and dishes on her struggles in an interview with Alex Morris….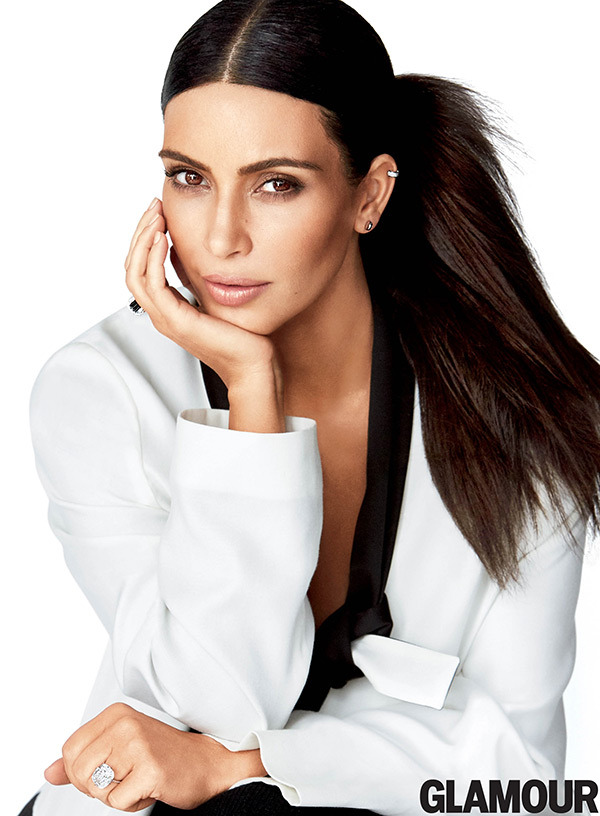 Kim Kardashian West is the star of Glamour's July issue and confirms that she is indeed pregnant with her second child! In a wide-ranging interview with Alex Morris—excerpted below—the Keeping Up With the Kardashians star clears the air on her past fertility struggles, her online critics, and her new life with baby North West.
On the cusp of 35, she says she finally has the reality she wants—and yes, even that baby: Two weeks after our interview, as the magazine went to press, she confirmed to Glamour that she and Kanye are officially expecting. "We are so beyond excited," she told Glamour. Think you know all there is to know about Kim Kardashian West? Think again.
GLAMOUR: So much has changed in your life since your last Glamour cover, in January 2012. Do you feel like a different person now?
KIM KARDASHIAN WEST: I'm a completely different person. I don't know if it's growing up or being with Kanye, who's more private, but I try and live my off time as privately as possible. I used to enjoy the spotlight. If I had a day off from filming, I didn't know what to do. Now I enjoy my family time so much, there is this sense of, If it all went away, and I was just a mom, I would love my life.

GLAMOUR: Well, it's a big change, having a kid.
KKW: Yeah, it really changes you. When I found out I was pregnant [with North], I was going through an awful divorce, Kanye and I had just been dating for seven months—granted, we knew each other for a decade—and I was like, "I can't do this. It's not the right time." But then I figured, If I'm in my thirties and I'm not ready, I'll never be ready. So it's been the biggest lesson, and the biggest joy of my life.

GLAMOUR: But it's also hard having that much responsibility.
KKW: Yeah, but I thought it would be. My best friend told me, "You'll never remember what your life was like before her, but it'll be OK."… North has taught me patience. There's nothing I wouldn't do for her. And nothing I wouldn't do for my husband. She's empowered us to want to be the best parents and the best spouses…. Today North put on these Manolo heels of mine and was walking perfectly around my closet. I sent Kanye a video of her; he was like, "Tell her to stop! She cannot grow up, she cannot wear your heels."

GLAMOUR: You're turning 35 in October. Do you feel like you are living the way you want to live right now?
KKW: I do. I mean, obviously as you grow up, no one's ever 100 percent proud of every decision that they've made, and that's OK. I think as long as you learn from your mistakes, and don't make them over and over again, you're on the right path.

GLAMOUR: You said recently that you don't consider yourself a role model because of certain choices you've made.
KKW: I'm not trying to influence anyone else; I'm not saying, "Do what I do." I think it's a little pretentious to say, "I'm a role model"; I would never say that, and I don't think of myself that way. Are there things I'd take back? I don't know if I'd take back the lessons that I've learned. Yeah, there are things that I'd be embarrassed about or wish didn't happen, but if I didn't have all those bad, crazy things, would I be who I am today? I don't know.

GLAMOUR: Your Paper cover last fall bragged that it would "break the Internet." Looking back, do you love it? Any regrets about it?
KKW: I love it! We were just shooting a cover, me in the dress with the champagne glass. But [photographer] Jean-Paul Goude gave me a book of his images when I was in makeup, and it was, like, Naomi Campbell naked and hanging from a rope—one of the coolest shots I've ever seen. So I said to him, "Hey, there's no rush. My publicist isn't here. We can kick the magazine out. If you want to work more, I'm here all night." When everyone came back, I was like, "You guys are going to die when you see what we did." I had dinner with my mom and Kanye afterward; they were like, "How was your shoot?" I was like, "Oh, good." I didn't say anything. When the magazine came out, my mom called screaming, "You didn't f–king warn me!" She went so crazy. I was like, "Relax, it's my shoot, my body, my life."

GLAMOUR: If North wanted to do a shoot like that one day, would you be like, "Go for it"?
KKW: I think I would if it were done artsy and cool. I can't speak for Kanye—he freaks out when she tries on my heels.

GLAMOUR: Since dating Kanye, you've gone through a style transformation yourself. How would you define your look then versus now?
KKW: My style was really fun and flirty and cute; very colorful, very trendy. When I started dating Kanye, he was like, "Babe, you have so many crazy shoes and platforms with spikes and jewels, so much going on. Can I have my stylist come and we'll clean out your closet?" I've become in love with this still sexy but just cleaner look
GLAMOUR: You've shot 10 seasons of Keeping Up With the Kardashians; the tenth seems to be very personal for you. You've dealt with fertility issues and even let the camera capture a surgery to have your uterus examined. Do you ever say, "I'm not comfortable"?
KKW: It's really rare. I didn't know that I was going to be so open with [my fertility challenges]. But meeting people at my fertility doctor's office who are going through the same things I'm going through, I thought, Why not share my story? It's been really emotional. One doctor told me I would need my uterus removed after I had another baby—I could only have one more. One was like, "You should get a surrogate." The other one was like, "Oh, no, you'll be fine." Then I called my doctor, and he's like, "You know what? I believe—we'll get through it."There are definitely times when I walked out [of the doctor's office] hysterically crying,and other times when I was like, "OK, everything's looking good—it's going to be this month!" The waiting and waiting has been a roller coaster.
For more of Kim Kardashian West's take on life in the spotlight, as well as her thoughts on Bruce Jenner's transition and vitriolic online critics, pick up the July issue of Glamour—featuring bonus covers!—on newsstands starting June 16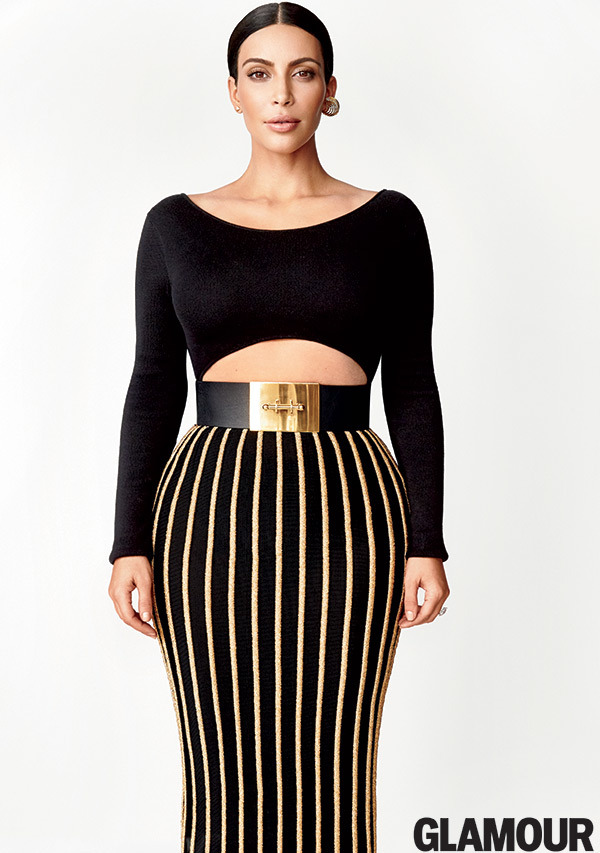 Related articles