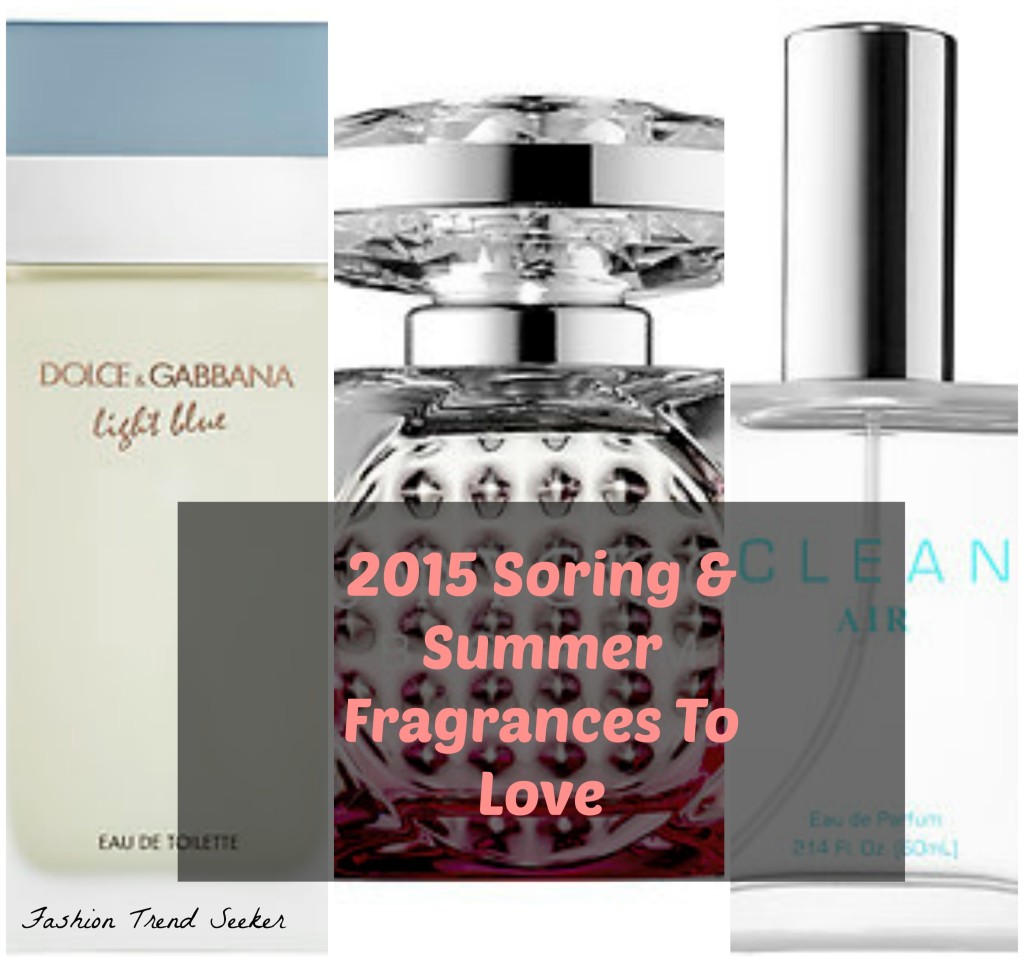 2015 Spring and Summer Fragrances & Perfumes for Women. Women love to smell good no matter what season it is, but during the spring / summer season it's essential since warmer days calls for keeping stronger odors caused by sweating and activities at bay.  Luckily there are quite a few fragrance available on the market that will keep you smelling fresh no matter what your favorite summer outdoor activity may be. Ready to find your go-to spring and summer fragrance? Look below to get started!

Sephora Favorites Spray Of Sunshine Perfume Sampler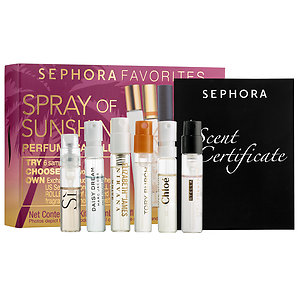 Inside this box, you'll find six samples of some of our most sought-after women's perfumes. Choose your favorite, and then take the included scent certificate to any US Sephora store* to redeem for a rollerball of your favorite featured fragrance at no extra cost.

This set contains:
– 0.04 oz Chloe Love Story spray (Scent certificate redeems for rollerball)
– 0.06 oz Elizabeth And James Nirvana White spray (Scent certificate redeems for rollerball)
– 0.05 oz Giorgio Armani Si spray (Scent certificate redeems for rollerball)
– 0.04 oz Marc Jacobs Daisy Dream spray (Scent certificate redeems for rollerball)
– 0.06 oz Stella McCartney Stella spray (Scent certificate redeems for rollerball)
– 0.05 oz Tory Burch spray (Scent certificate redeems for rollerball)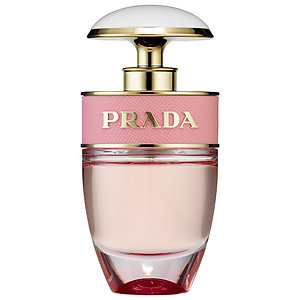 Candy declares her love for flowers. She takes on a new flirtatious game, where sensuality is pushed to the fullest. The delicately sweet smell of Candy meets a new, refined bouquet of sparkling cedrat and blooming cosmos that intermingle with her elegant softness. Candy is blossoming.
Notes:
Sparkling Cedrat, Bouquet Of Cosmos, Benzoin, Caramel, White Musk.
Style:
Sensuous. Coquettish.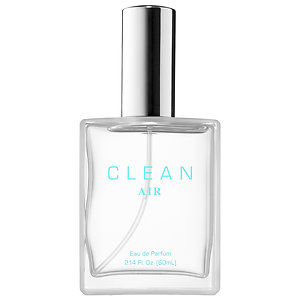 "Spirited, buoyant, and blissful, CLEAN Air evokes the expansive airiness of a hot air balloon ride over the Himalayas. For the introduction, IFF's unique mountain air accord conveys the invigorating rush and liberating feeling of a limitless horizon. In the heart, the sheer floral bouquet of sparking freesia and dewy peony unveils the fragrance's luminous grace and ethereal femininity. In the background, whispers of powdered aldehydes and silken white amber are wrapped in enveloping cashmere woods and musk to create a blissful feeling and weightless sensuality."—Ruhi Patel, Perfumer at IFF and Creator of CLEAN
CLEAN Air is a woody floral aldehydic fragrance that is sparkling and feminine when worn alone, but has the power to transform each CLEAN woman's fragrance into a new floral experience when layered together.
Notes:
Mountain Air Accord, Bergamot Blossoms, Lush Green Accord, Sparkling Freesia, Powdered Aldehydes, Dewy Peony, Enveloping Musk, Cashmere Woods, White Amber.
Style:
Carefree. Feminine. Exhilarating

JIMMY CHOO Blossom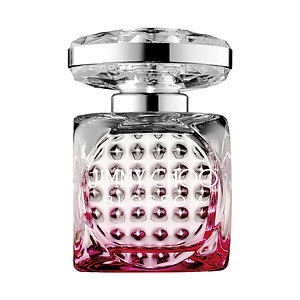 Blossom is inspired by the effervescent life of the Jimmy Choo party girl who lives each day to the fullest and doesn't take herself too seriously. Embodying a sense of sexiness, fun, and happiness, she is sparkling and vivacious. One spritz gives her an invisible cloak of confidence.
Blossom Eau de Parfum opens with bright and sparkling top notes of red berries blended with a citrus cocktail. A delicate heart of sweet pea and rose complements rich and sensual base notes of white musk and sandalwood.
Notes:
Italian Citrus, Red Berries, Sweet Peas, Bulgarian Roses, Pink Musk, Sandalwood.
Style:
Feminine. Fun. Charming.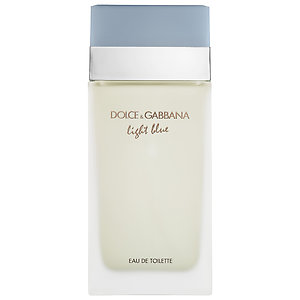 A stunning perfume, overwhelming and irresistible like the joy of living. The scent is surprisingly colored with the liveliness of Sicilian citron, the happiness of Granny Smith apple, and the spontaneity of bluebells. Feminine and resolute notes are expressed with the intensity of jasmine, the freshness of bamboo, and the charm of white rose. The deep and true base embodies the character of cedarwood, the fullness of amber, and the embrace of musk.
Notes:
Sicilian Citron, Bluebell, Granny Smith Apple, Jasmine Sambac, Bamboo, White Rose, Cedarwood, Amber, Musk.
Style:
Deep and true
Related articles