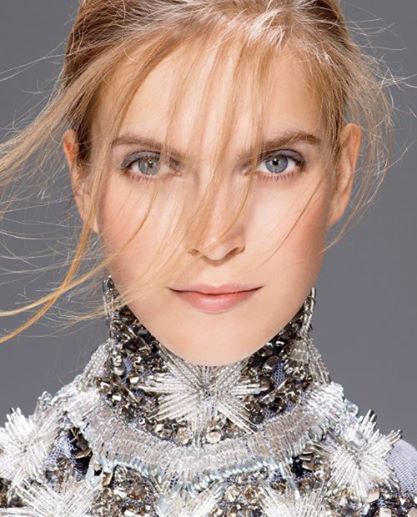 New MAC Pure + Healthy Face Collection. This spring Mac will be launching a new face primer, as well as a new foundation to help give you flawless skin. Both the face primer as well as the new foundation feature SPF to help protect our skin while creating a memorable glow to our complexions.  Available in stores now,  see more from the new collection after the drop.
For a Pure + Healthy Face, start with Prep + Prime Face Protect Lotion SPF 50 to smooth and hydrate skin with the added benefit of sun protection. Next, apply Mineralize Moisture SPF 15 Foundation for luminous perfection with a natural-satin finish. Finally, Prep + Prime Transparent Finishing Powder sets makeup for a totally flawless look. For professional results, apply with the 129SH Powder Brush.
Prep + Prime Face Protect Lotion – $30.00 for 30 ml / 1.0 fl oz
Your favourite sun-shielding primer is now available in a new formula infused with antioxidants for advanced protection. A blend of mineral-rich nutrients, including red and brown algae extracts, iron and potassium, helps cells to retain moisture, absorbing instantly with a comfortable, non-oily finish. Suitable for all skin types, the nourishing formula protects against harmful broad-spectrum UVB and UVA rays, preventing dark spots, discolourations and premature skin aging. For fresh, healthy skin with a soft-focus effect, apply the primer before makeup.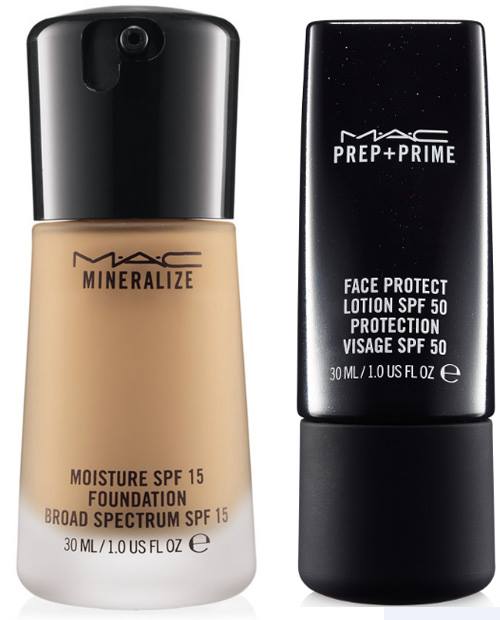 Mineralize Moisture SPF 15 Foundation – $35.00 for 30 ml / 1.0 fl oz
A combination of powders creates an optical blurring effect that virtually diminishes imperfections and fine lines, for a more even tone. The light-reflecting, natural satin finish makes skin appear refined, revitalized and refreshed with a new purity, softly lit from within. SPF 15 adds the perfect finishing touch of sun protection. Features our 77-Mineral Complex, Shea Butter and Vitamin E.
Shades:
NC 15
NC 20
NC 25
NC 30
NC 35
NC 37
NC 40
NC 42
NC 44
NC 45
NC 50
NW 13
NW 15
NW 18
NW 20
NW 22
NW 25
NW 30
NW 35
NW 43
NW 44
NW 45
NW 47
NW 50
Prep + Prime Transparent Finishing Powder – $26.00 for 8 g/ 0.28 oz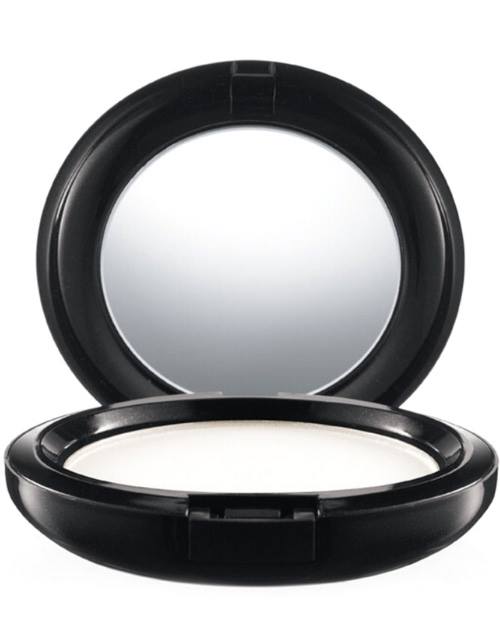 A silky finishing powder that provides an invisible way to set makeup. Reduces shine while optically minimizing the look of pores, lines, imperfections. Available in one universal colour that suits all shades. Wear over makeup or on bare, moisturized skin.
129SH Powder / Blush Brush – $35.00

The 129 Blush/Brush with a shorter handle. Includes a travel pouch to keep your brush clean. This brush is particularly good for blush application. The fibres are soft and form a full, rounded shape. M·A·C professional brushes are hand-sculpted and assembled using the finest quality materials. They feature wood handles and nickel-plated brass ferrules.