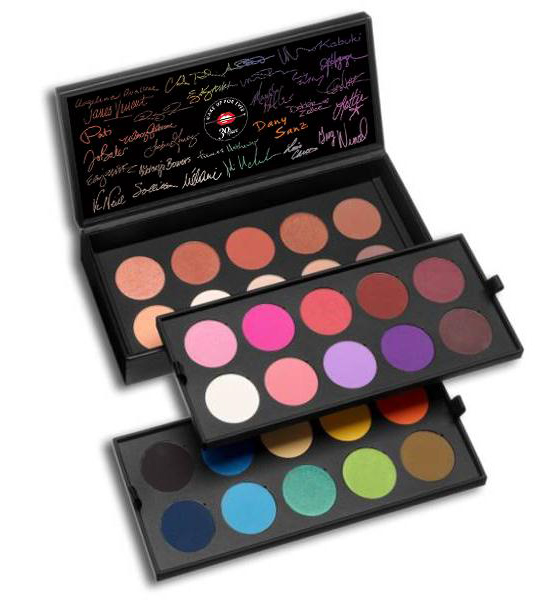 Celebrate 30th years with Make Up For Ever's new 30 Years 30 Colors 30 Artists Palette!
In honor of it's 30th anniversary, Make Up For Ever will be releasing a new eyeshadow palette which will feature 30 vibrant shades from 30 elite makeup artists.  Expected to hit stores September 2nd, look below for more details.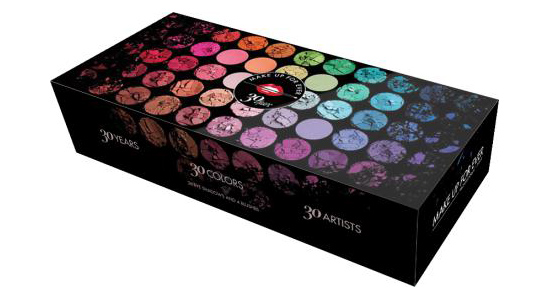 In celebration of their 30th anniversary, MAKE UP FOR EVER partnered with 30 elite makeup artists from all areas of the industry including celebrity, fashion and beauty, TV, film and theater as well as Brand Creator & Artistic Director Dany
Sanz. The brand's unique story is shared through the eyes of these artists who helped shape it into a cult favorite for professionals and the public.
Makeup artists have been devotees of MAKE UP FOR EVER since its beginning in 1984, when it launched an eye shadow collection featuring 100 shades. Now 30 years later, the brand has revolutionized the product that put it on the map by introducing the new, advanced Artist Shadow. Staying true to its roots, MAKE UP FOR EVER presented the first preview of this new collection to the community that helped bring its name into the spotlight – the professionals.
Curated by these artists, the spectacular limited edition collector's 30 Years 30 Colors 30 Artists Palette features 30 Artist Shadows inspired by each artist's unique journey within the industry and personal experience with MAKE UP FOR EVER. The palette is divided into three black trays each carrying 10 shadows in the following 3 categories: smoky, brights, and neutrals. These highly blendable and vivid shadows allow consumers to explore this palette's endless possibilities by mixing and matching their favorite shades, and experimenting with new bold shadows.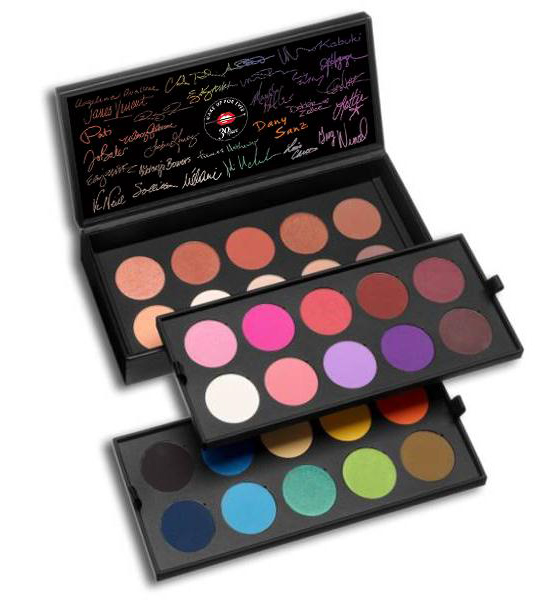 30 Years 30 Colors 30 Artists Palette ($250.00 U.S. / $295.00 CDN) (Limited Edition)
M100 (Dany Sanz)
D104 (Debbie Zoller)
ME310 (Ricky Wilson)
D320 (Jackie Gomez)
ME108 (Viktorija Bowers)
ME624 (Ve Neill)
M618 (Craig Lindberg)
M930 (Stephen Sollitto)
ME654 (Mai Quynh)
I606 (Darcy Gilmore)
I550 (Greg Wencel)
M548 (Pati Dubroff)
M536 (Jo Baker)
M532 (Joyce Bonelli)
ME122 (Anthony Merante)
M636 (Roshar)
I662 (James Vincent)
D640 (Melanie Inglessis)
ME512 (Anthony Nguyen)
D868 (Charles Porlier)
ME400 (Luis Casco)
I746 (Angelina Avallone)
S852 (Frances Hathaway)
S742 (Lottie)
I922 (Kabuki)
D206 (Eryn Krueger Mekash)
I340 (Elizabeth Cohen)
ME304 (Merell Hollis)
ME230 (Jodi Urichuk)
I220 (William Lemon III)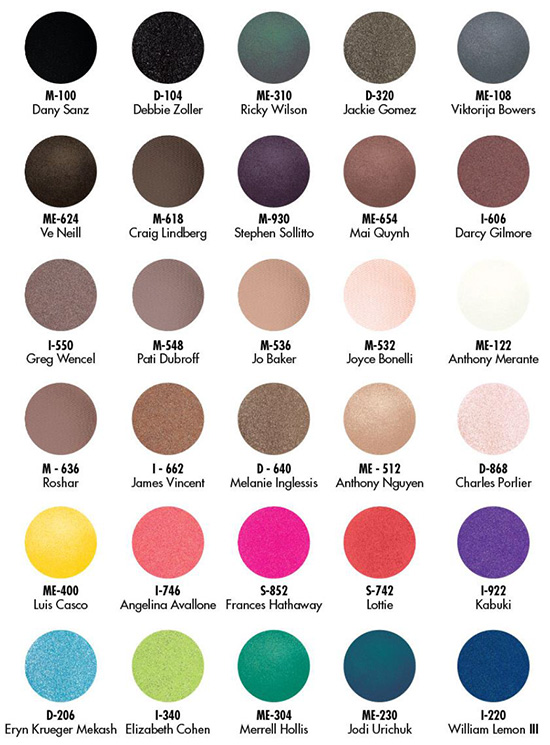 Related articles