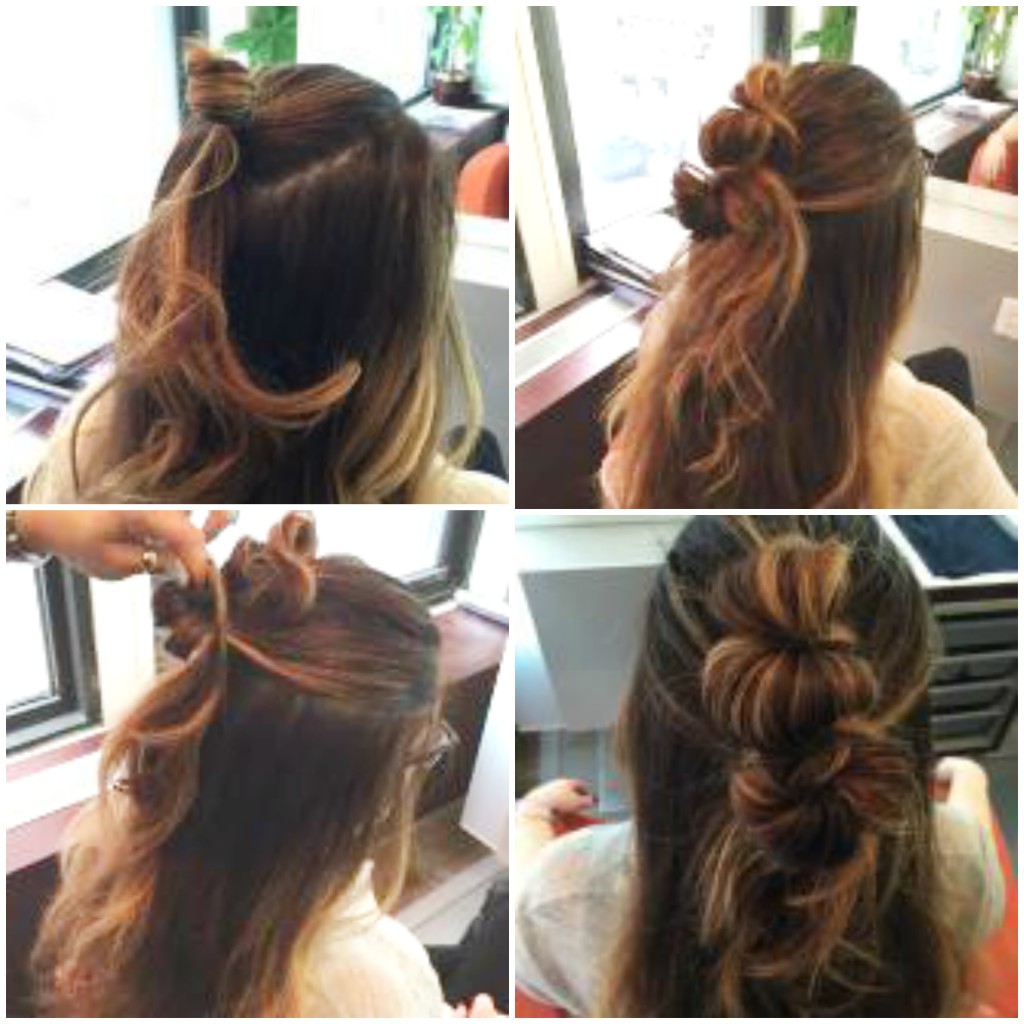 Hairstyle How-To: Half-Up Double Knot. Looking for a new hairstyle to try, then check out the Half-Up Double Knot, it's a fun mix between a top knot, and wearing your hair half up half down. Perfect for carefree summer days, or if you're just looking for a fresh way to style your 2nd or 3rd day hair. It's also a style that can be worn with a number of textures and lengths. Look below for step by step styling tips! Thanks to Butterfly Studio Salon for sharing today's how-to style.
1. First step: texturizing product/dry shampoo, which is essential for grip and hold when styling. (Kattia Solano, owner of Butterfly Studio loves Oribe Dry Texturizing Spray on the crown area) Lift hair, taking it by sections, spray at the root as if you were teasing and then massage through with your hands to work the product in.
2. Using your hands, section out a "horse shoe" shape of hair at the crown area. Thicker hair can opt for larger section while thinner hair can work with a smaller amount of hair. Rake through with your hands to brush and pull back hair to create a clean section.
3. With a small hair tie in one hand, take a section of hair and pull halfway through the tie, so that you are left with a little "pom-pom." Wrap elastic around 2-3 times until secure without pulling all of the hair through. (Use small clear elastics so you won't see the tie, and in case you don't wrap any hair around the knot the ties will be discreet.)
4. Open up the pom-pom with your fingertips for fullness to create a textured knot, then wrap the hair ends around your knot once and tuck hair under the elastic band with ends sticking out. Keep the remaining length right under the pom-pom, as you will use the extra hair length to help with fullness and perfectly messy texture for your next knot.
5. Create your next section right below the first by taking 1 1/2 to 2 inches of hair from the sides (horse shoe of "V" part all the way around the head). Use your hands again to gather and comb the hair back, then combine the hair ends from your first knot with your new section and repeat steps 3 and 4 – tying right under the first pom-pom, tucking through and leaving ends free. If your hair is long enough you can even wrap the extra hair around in a "figure eight" motion around both knots for detail.
6. To finish, spritz a little hairspray and then make it your own. Don't be afraid to muss it up – the more texture the better! To complete the look, Kattia recommends adding some height/volume at the front top of the head by slightly pulling/gently tugging hair up at the root with your fingers.
*With this hairstyle, volume is always at your side to rid limp hair and that unwanted greasy summer look once and for all. Play with positioning and create more knots for a change up or more customization for how you can wear it. You can even use bobby pins to change the knot shapes.
Related articles