Comment To Win Private Style Consultation with George Kotsiopoulos From E! Fashion Police. Hi lovely readers. I have a great giveaway for everybody, and this one features some amazing prizes. Right now Omaze.com is having a great giveaway where you can make donations ranging from $7 to $10 for your chance to be entered to win a once-in-a-generation opportunity to hang with a the fashion dream team. They are offering 5 of my lucky readers each a FREE TICKET to be automatically entered into the contest. Sounds great right? All you have to do is comment below with your email address, and you can be one of those lucky 5. In fact the first 5 people to comment below will receive the tickets.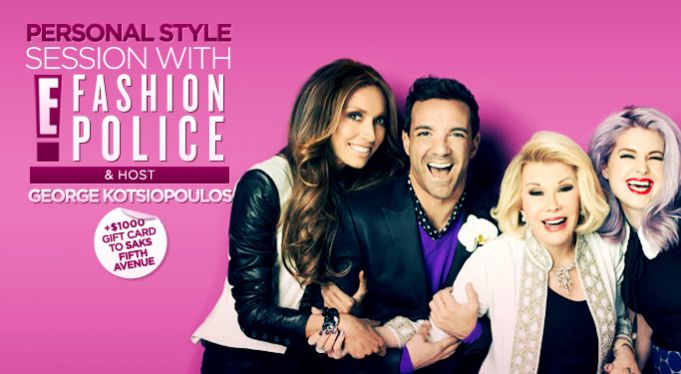 If you ticket is chosen in the final drawing, you can win the following...(  more details from the contest can be found here).
Private style sesh w/ George K. + $1000 gift card at Saks Fifth Ave, before visiting E!'s Fashion Police
Airfare & hotel incl. for you + friend
Every 21 entries provides 1 student a semester of arts education
What you'll do: Fly to LA to spend a $1000 gift certificate at Saks Fifth Avenue Beverly Hills during a one-hour private fashion session with stylist-to-the-stars George Kotsiopoulos.  Then you can head to the taping of E! Fashion Police in your new duds!
What you'll learn: How to dress like a celebrity (you're learning from the best), how to use a gift card to buy yourself incredible clothing (thank you Saks 5th Ave!), and what will elevate your style from "streetwalker" to "starlet" (hint: his name is George).
What else: Your personal fashion sesh goes will go down November – January. You and a friend will be flown to LA, put up in a nice hotel, and escorted to Fashion Police's set for a day you're wardrobe will never forget!
So If this sounds like a great opportunity for you, all you have to do is comment below with your email address, and the first 5 will be given tickets into the main drawing for free. ….Good Luck everyone!