Essence Twilight Saga: Breaking Dawn Part 2 Collection for Winter 2012. Twilight fans can rejoice, as Essence beauty brand releases another Twilight collection centered around the new Breaking Dawn Part 2 Movie (hits theaters in Nov and I'm supper excited 🙂 ). Anyway, the collection will featured limited edition items ranging from loose eyeshadow pigments, to lipstick, lip gloss, and glitter eyeliner.
Just in time for the movie, the International launch date will be released in Nov, and Dec.

To celebrate the release of the movie and the essence make-up collection inspired by the film, there are lots of fantastic prizes to be won in cooperation with Concorde Filmverleih. The sweepstakes includes an entire BREAKING DAWN – Part 2 make-up trend edition, as well as movie screenings at a movie theater near the lucky winners. Additionally, movie tickets can be won for an unforgettable Twilight Saga evening at the movies.
Team Edward and Team Jacob take note – the time has finally arrived! The big finale of the popular Twilight Saga is coming to theatres soon as vampires and werewolves unite one last time to fight against a common enemy. Just in time for the release of the movie, Essence presents a stunning make-up collection inspired by The Twilight Saga: Breaking Dawn – Part 2. With the mysterious colors of dawn, fantastic shimmer pigments as well as dark, dramatic effects and blood-red products for your lips and cheeks, essence is offering true vampire power for all girls – until the break of dawn…
Breaking Dawn Loose Pigments Eyeshadow – Limited Edition
Vampire eyes! The loose eyeshadow pigments, available in three dark, almost black shades and one light golden shade, create mysterious and fascinating eye make-up à la Bella Swan. Ranging from a subtle shimmer to metallic to a strong sparkle, the right effect to suit every vampire girl is guaranteed. The pigments can either be used individually or combined. The ideal base: the essence colour arts eye base from the essence standard range.
01 Jacob's Protection
02 Alice Had a Vision – again
03 A Piece of Forever
04 Edward's Love
Breaking Dawn Liquid Glitter Eyeliner – Limited Edition
The highlight for your vampire look! The liquid glitter eyeliner comes in two mystical and magical colors to whisk you away into the darkest night with its cool, fine glitter pigments. The thin brush allows a particularly accurate eyeliner application.
01 Alice Had a Vision – again
02 Jacob's Protection
Breaking Dawn Lipstick – Limited Edition
Rendezvous at night! This lipstick contains fine gold glitter particles sure to make even vampires go weak at the knees. With its silky texture and pampering formula, it ensures super-soft lips just waiting to be kissed by Edward…
Breaking Dawn Lipgloss – Limited Edition
Lips like Alice and Rosalie! The lipgloss tempts us in a dramatic red as well as intense lilac and offers a glossy finish. The metallic effects guarantee true Cullen style in the battle against the Volturi.
01 Alice Had a Vision – again
02 Renesmee Red
Breaking Dawn Shimmer Powder – Limited Edition
The absolute must-have for all Twilight girls! The delicate shimmer powder offers your face and body a special glow and makes your complexion look beautifully smooth – for ultimate vampire seduction.
Breaking Dawn Blush – Limited Edition
An elegant pallor? Dare to blush – and not just when a never-ending love story is sealed with a kiss on screen. This blush sets soft and subtly shimmering red accents on your cheeks. Its velvety texture is easy to apply and distribute for an awesome finish to the elegant, pale vampire look…
Breaking Dawn Nail Polish – Limited Edition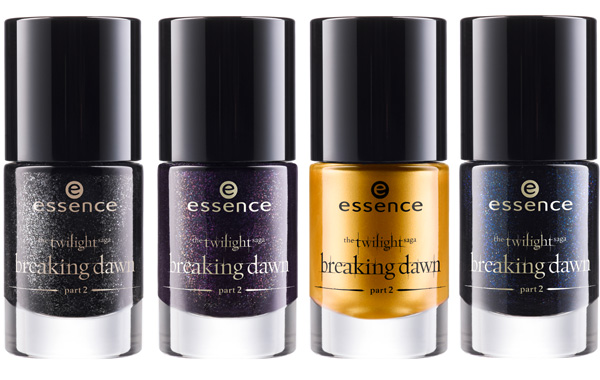 The four intense nail polish colors in this collection are sure to last until the break of dawn… and longer! Mystical night blue, seductive black, dark and dramatic purple as well as shiny gold guarantee eye-catching nails at every Twilight Saga party!
01 Jacob's Protection
02 Alice Had a Vision – again
03 A Piece of Forever
04 Edward's Love
Related articles