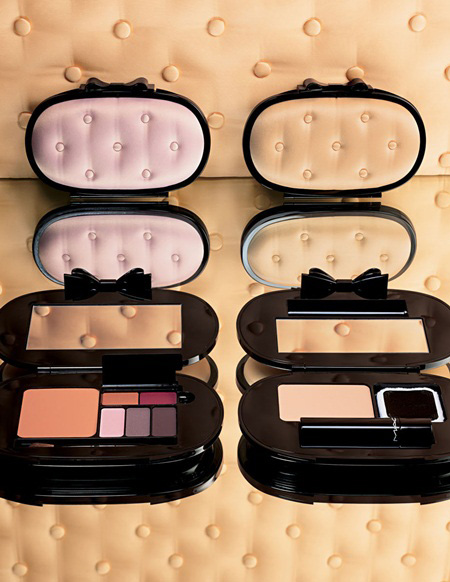 First Look – MAC Cosmetics 2012 Holiday Collection & Gift Sets. With the Holidays being just a short time away,  we're now getting our first look at what products we can expect from Mac cosmetics this holiday season. Every year Mac features some of their best sellers in cute packaging, and this year's lineup is chic and very girly with a bit of a French flair added to it's overall style. The official launch date is yet to be released, but for now we can keep our eyes on our future Christmas presents by looking at what products might be featured in the collection below.  ( Note pictures do not lineup with product info.)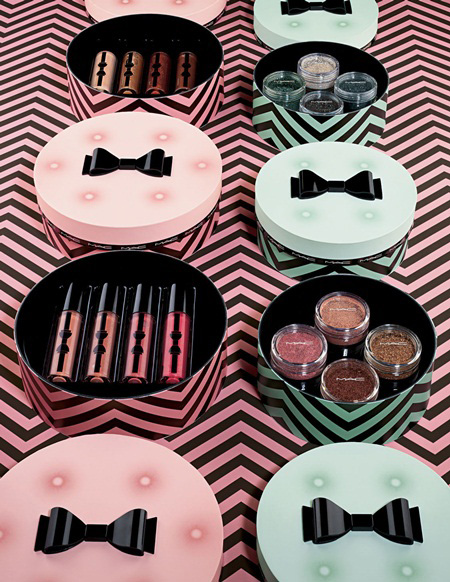 MAC Holiday 2012 Eyeshadow Palette
There will be 3 eyeshadow palettes with anniversary packaging, each one including a mini-size eyeshadow brush and five eye colors.
Pink Palette – Taupeless, Satin Taupe , Love Spice, Spellcaster, Black Slip
Green Palette – Blonde Mink, Magical Mist, Brun, Enviable, Smut
Orange Palette – Glamour Light, Retrospeck, Honesty, Cognac, Sketch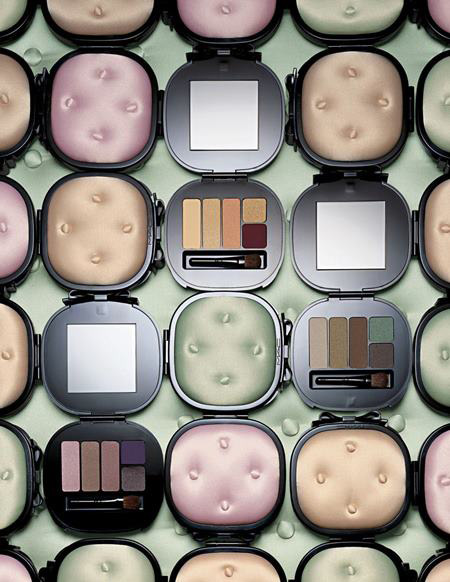 MAC Holiday 2012 Face Palette
There will be three palettes each one including three eyeshadows, two lip colors, one powder shades and a mini double-ended brush with one end #275 eye shadow brush and the another end is # 316 lip brush.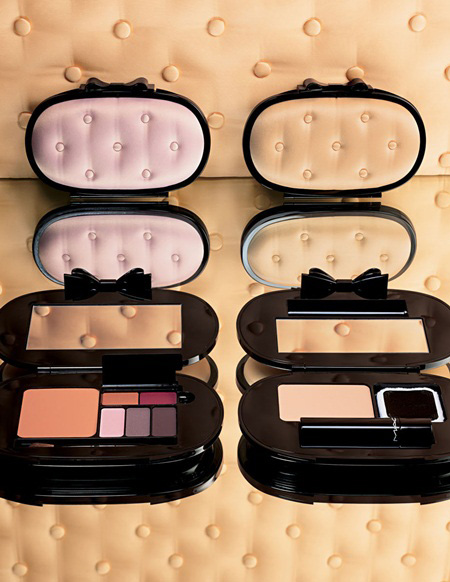 MAC Holiday 2012 Face, Eyes & Lip Palette
Available in 3 combinations, each palette containing one lipstick, one oil-absorbing powder and one eyeshadow.
MAC Holiday 2012 Pigments – Limited Edition
There will be 3 makeup sets each one including four pigments packed in a beautiful rounded mint box with black bow.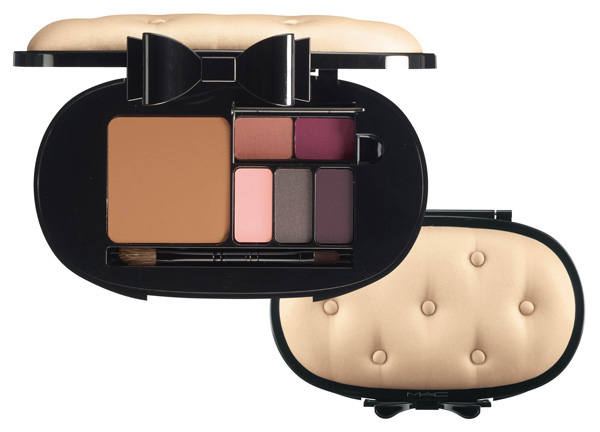 Pigment Set 1
She's Got Class – shiny platinum gold
Moss Garden – satin green lake
I've Got a Crush on You – metallic green brown
Spruced – metallic blue-green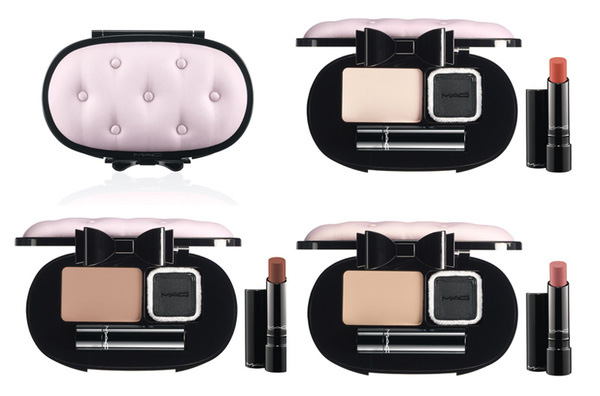 Pigment Set 2
Rose Light – rosy pink
Silk Stocking – golden sand
Darling Coquette – shiny white gold
Ever Elegant – dark reddish brown with pink pearl
Pigment Set 3
Unknown names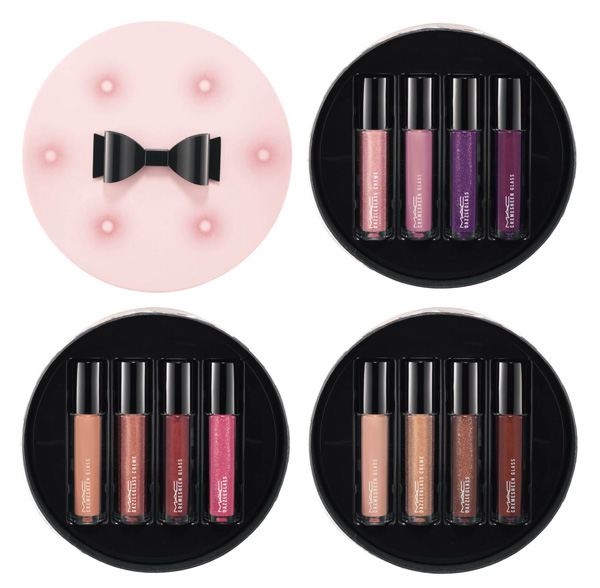 MAC Holiday 2012 Gloss Sets
Gloss Set 1
Out for Glamour – bluish pink with glitter
Sublime Shine – pale orange brown
Geo Pink – soft red
On the Scene – pale fleshy orange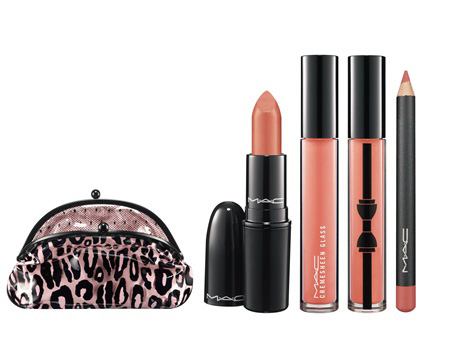 Gloss Set 2
Satin Slip – light pearly orange
Fashion Whim – soft pink
Kiss Don't Tell – dark brown
Get Rich Quick – dark coffee with multicolor pearl
Gloss Set 3
Unknown names
MAC Holiday 2012 Gift Sets
Each of the following gift sets come with a free makeup bag or pouch with leopard print.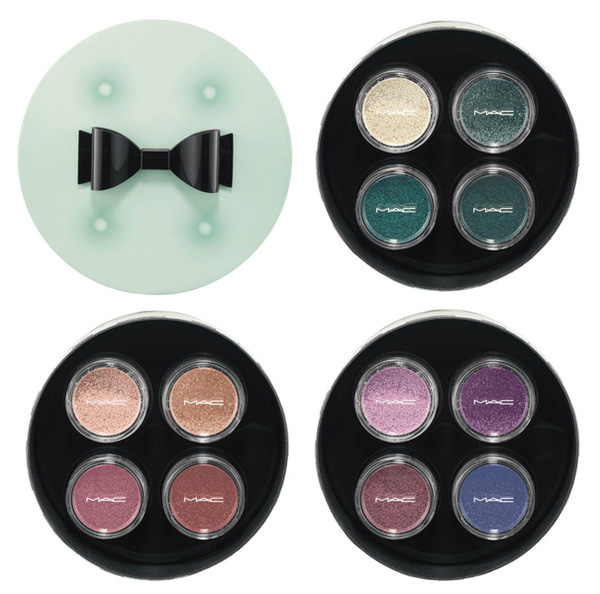 MAC Holiday 2012 Leopard Lip Gift Set
Will be released in two colors combination of nude orange and bright pink. Each set includes a shade of cremesheen gloss, one lipstick, a mini lip liner, a fashion gloss and a leopard print cosmetic bag.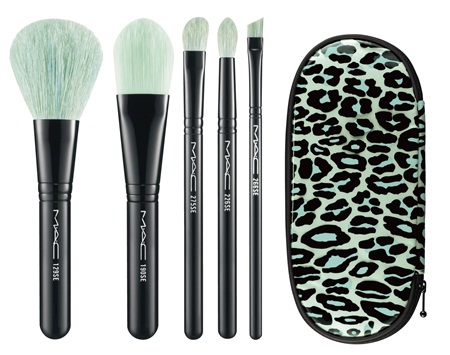 MAC Holiday 2012 Eye Gift Set
There will be 3 sets available, each one including a duo eyeshadow, Opulash Mascara, a black eyeliner, a mini #275 eyesahdow brush and a leopard print cosmetic bag.

MAC Holiday 2012 Mineral Brush Set
#187 Fashion Duo Fibre Brush
# 130 Professional Short Duo Fiber Brush
# 286 Professional Duo Fiber Blending Brush
# 282 Professional Eyeshadow Brush
Orange Leopard Cosmetic Bag

MAC Holiday 2012 Classic Brush Set –
#167 Blush / Powder Brush
#168 Fashion Large Angled Contour Brush
# 239 Fashion Eye Shader Brush
#217 Fashion Blending Brush
# 212 Professional Flat Definer Brush
Pink Leopard Cosmetic Bag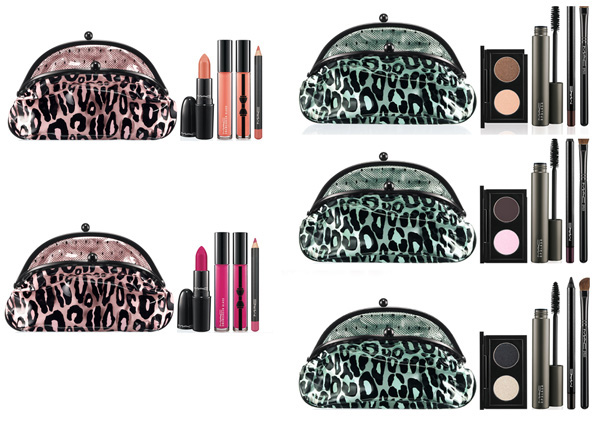 MAC Holiday 2012 Advanced Brush Set
# 190 Fashion Foundation Brush
# 129 Fashion Blush / Powder Brush
# 275 Fashion Medium Angled Shading Brush
# 266 Fashion Small Angle Brush
# 226 Color Brush
Green Leopard Makeup Bag
source : chicprofile
Related articles