Katy Perry's Eylure Eyelash Collection. I absolutely adore Katy Perry's eyelashes, and now she's coming out with her very own eyelash collection. Katy is teaming up with brand Eylure to bring us an eyelash collection featuring 4 different styles. All of which are very glamorous yet natural looking. " "When it came to having a range of my own, I wanted everyone to have a great experience with my lashes [...]They're full, fun, and great for both daytime and evening wear." Look for more details on these fab lash styles.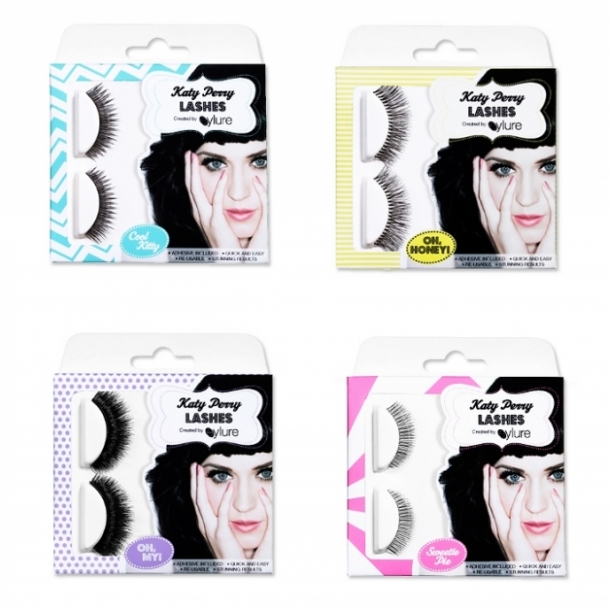 Katy Perry Cool Kitty Lashes Katy offers her own review of the glamorous pair of faux lashes to InStyle, "These are some of my favorite lashes! The well-manicured tips make them perfect for evening wear,[...]It can add the ideal finishing touch for a smoky look that will make people purr as you pass."
Katy Perry Oh My! Lashes Make sure you don't shy away of the thickness and volume of these chic lashes. Katy says that, "This style is full of texture, but they're very lightweight,".
Katy Perry Oh Honey! Lashes Stay one step ahead of the most flirtatious beauty trends and sport these old time glamorous false eyelashes about which the pop diva says that, "I love the vintage flick at the corners that this lash gives me![...]They're full, fun, and great for both daytime and evening wear."
Katy Perry Sweetie Pie Lashes These perfeclty polished and groomed lashes look stunning when incorporated into your makeup. Katy says that, "This is a great lash for anyone who wants to try false lashes for the first time,[...]It's sweet and subtle, but adds just the right amount of length and volume."
Fashion Trend Seeker is a fashion blog dedicated to keeping your style updated and fresh with all of the latest styles and trends. Danielle lover of all things fashion and beauty related, loves blogging for those who love seeking the latest trends. Be sure to follow her weekly posts to keep your style updated, and you catch her on facebook, twitter and google plus.
Latest posts by Fashionprincess (see all)