Spring / Summer 2013 Wedding Dress Trends. Wedding bells have already begun ringing for the 2013 wedding season, and the latest gown trends have been shown during the bridal fashion week. From extremely bold and vibrant bridal gowns, to peplum silhouettes, and amazing back details shown on gowns, look below to see the top trends for the 2012 wedding season.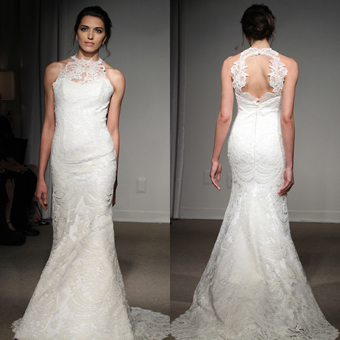 Strong Back Details – Dresses showcasing exquisite back details is back for spring 2013, the trend was prevalent in last years designs and it's making a strong return for next wedding season.
Colored Gowns- For the past five wedding season, designers have tried to step away from classic all white gowns and move into color. This season more designers than ever used bold colors to create vibrant gowns. From red, to pink, blue, black and even printed variations. Are you bold enough to try a colored gown?
Mermaid Silhouettes – Designers once again favored the unique look of mermaid tail dresses.
Peplum – For the truly fashionable bride, a new trend comes to us for spring 2013 the look of peplum wedding gowns. Show off your curves in this fashion forward style.
Lace Details – lace is bigger than ever when it comes to wedding dresses this season, we can all thank Bella from Twilight and Kate Middleton for this trend.
Two – In-One-Gowns – Now more than ever, brides are realizing that they want two dresses for their special day. One for the ceremony, and one for their reception. Designers this season have created quite a few gowns that allow brides to detach and remove certain pieces so that they can have two dresses in one. This way you only have to have one dress, but you can create two different looks.